A humiliating moment at a soccer game reminded me that kids today can't always walk away from embarrassment.
My 12-year-old daughter Sienna recently joined her school's coed junior high soccer team. She's never played soccer before, but after a successful plunge into the world of volleyball, she was ready to branch out again.
They've only had a few games, but last week they got their first win. I'm glad I was able to make that game, because it was amazing to see the team start to click into place so quickly. The kids were all infinitely more comfortable with their footwork, their positions, and each other than they had been even a few days before. But at one point, the other team cleared the ball and Sienna turned just in time to see it drop out of the sky. She reacted reflexively, extending her arms out and hitting the soccer ball exactly as if it were a volleyball.
Honestly, it was pretty funny. The bleachers (mercifully filled with parents only) erupted with fond laughter, but I could tell that Sienna didn't hear the fondness. She turned bright red, covered her face with her hands, and walked away from her teammates toward the goal. I was grateful that one of her friends ran after her and slung an arm around her shoulder, and doubly grateful that when the ref started the game back up, Sienna was able to let go of her embarrassment and get back in it.
More than anything, though, I was deeply grateful that this was an away game, late enough at night and far enough from home that no other kids except the soccer team were in attendance. The only phones out were in the hands of parents, so Sienna was safe from the peril of her moment of embarrassment become a living, breathing Instagram nightmare. She was blessed with the freedom to be embarrassed for a moment and then move on with life — a freedom that is increasingly rare for today's kids, as long-time teacher Benjamin Conlin explains in an excruciating post about the perils of smartphone culture:
I started teaching in 2009. At that time, public school was very much the way I remembered it. That's not the case anymore. Smartphones and social media have transformed students into creatures craving one thing: content. It's a sad state of affairs. But there's hope. Over the last few years, my students have become increasingly interested in stories from the days before smartphones and social media. In the same way many adults look back fondly on simpler times, kids look back to second and third grade, when no one had a phone. I think a lot of them already miss those days. Smartphones and social media aren't going anywhere. Both are powerful tools, with many benefits. But they have fundamentally altered how children interact with the world and not in a good way. We can change that.
Please go read the whole article — what I posted here doesn't do it justice. It's a well-written, painful juxtaposition of middle school today vs. middle school just 10 years ago, and I immediately thought about it at Sienna's soccer game. It could have been so much worse. We are so lucky this happened here, now, I thought as I watched her walk away, momentarily humiliated but already being comforted by a friend and teammate.
All parents suffer with their children. I winced when I saw Sienna's face turn red, and I could practically feel her humiliation as she walked away. But it made me wonder — if this had happened somewhere else, on another day, when someone had Instagram ready to capture it … would I even know? Would she tell me? Would she be too embarrassed, or too absorbed in the freefall of her social capital, to come to me? Most of all — would I even be listening if she did? 
Honestly, I kind of hate smartphones. There have been days when I want to gather every phone in our house and smash them with hammers, just to see if that would set us free.
Of course, I can't do that. We all use our phones for work, and those phones make it infinitely more difficult to maintain a work-life balance. It's always going to be a struggle, but I'm so grateful for these small moment of clarity that remind me to put mine down, listen to my children, and trust my instincts when Sienna asks — yet again — for permission to get Instagram.
She'll get it one day, but not yet. I want her to be free to be a child for a little bit longer. There's plenty of time for Instagram in the future … but right now, I'm so grateful that it's not in our present.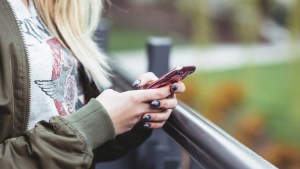 Read more:
A nun's 10 tips for social media sanity (we think #7 is key)