St. John of the Cross' solution to his despair was brilliant; here are his strategies.
Recently, one of my parishioners asked me why I'd been so subdued during Masses lately. I had to be honest and admit that I struggle with depression and was in the midst of a mini-episode. This isn't a secret I like to share, partly because it's not the most pleasant conversation topic and partly because there is very little that can be done about it. Being depressed doesn't mean I had a bad day at work, or that I'm about to harm myself. It isn't caused by negative thinking or outside influences. As a teenager, it never depressed me if a girl broke up with me or I had a fight with my parents.
No, depression is often different than that. For me, it's an undefinable sense of absence, the dreadful conviction that I'm in a whirlpool swirling towards the drain, powerless to do anything but drift down. When it strikes, it's an act of sheer willpower to drag myself out of bed in the morning. Once I do, the day moves along and I function more or less normally – or so I think – in fact, I behave as though I'm slightly numb.
There are some physical ways to help treat depression. My own vigorously applied remedy is outdoor exercise. I spend hours at a time on my bicycle soaking in the sunshine and go for runs for as long as it takes my body to release the chemicals responsible for the famous runner's high. I'm zealous about my outside time because I know it's the key to my mental health. In the end, though, depression can become a fact of life for those who suffer from it.
There is another type of persistent sadness that is distinct from depression but related and it's called despair. People in the grip of despair suffer from a lack of hope about the future. The condition is often caused by a traumatic event – the death of a spouse, divorce, losing a job, a mid-life crisis. This sort of sadness is different than depression but no less devastating for those who suffer from it.
Particularly right now at the holidays, old feelings and hurts resurface. It's a time to celebrate but it also puts into focus what might be lacking in our lives – the children who are missing, the family members who refuse to come to dinner, the gifts not under the tree because of lack of money.
In whatever scenario we find ourselves — clinical depression, or despair — we can fall into a trap. Both demand our full attention and prompt questions like: Why is this happening to me? What did I do to deserve this? Why is life so unfair? Once we begin pondering these questions, we become trapped in a cycle. The more we entertain our complaints the more our thoughts an feelings become our identity.
There is no easy fix or internet trick that provides a way out when we're depressed or despairing. All we can choose is how we respond to it. Does the despair bring life to a grinding halt? Or, will I get out of bed and live my best life even if for the time being I'm under a shadow?
St. John of the Cross, whose feast day is later this week, may have struggle with these kinds of thoughts himself. He had a difficult life. He was thrown into prison by people he thought were his friends, mocked and cast out from his home, and eventually died only having reached the age of 45. He could have easily given into despair but instead he chose a different path. Nothing could change what happened to him, but he always remained firmly in control of his reaction, and his solution to the problem of despair was brilliant. He chose to practice a healthy habit of detachment.
St. John of the Cross detached from asking why. He detached from bitterness. He detached from guilt and bitterness. He never allowed his identity to become that of a person who despairs. Drawn from the example of his life and thought, here are some benefits to detachment.
Detachment as a form of receptivity
St. John detached from past injuries, never allowing despair over the past to overcome him. He strove to let go of it so that he might be totally receptive to whatever the future might hold. In this way, he was ready and expectant. Even in the midst of spending time in prison, he was able write beautiful poetry and spiritual writing that is still read today. When we detach from depression and despair, we too leave them behind and become receptive to a hopeful future.
Detachment from false identity
St. John could easily have played the part of a martyr. What happened to him was unfair and wrong. If he wasn't careful, he could also have taken on some of that despair and allowed it to become a part of his identity. In my own struggles with depression, one of the promises I've made myself is that I will never allow the depression to define me. I don't want to talk about it widely. I don't want to use it as an excuse. The depression isn't who I am. When we detach from false martyrdom and negative self-image, we are set free to be who we really are.
Detachment as a form of love
St. John says, "Love consists not in feeling great things but in having great detachment and in suffering for the Beloved." By this he means that it doesn't matter what we feel. Even if we may be deeply depressed or in despair we are still capable of love. In fact, when we detach from those negative feelings, overcome them, and love those around us even when we're not feeling it, that is an even greater form of love.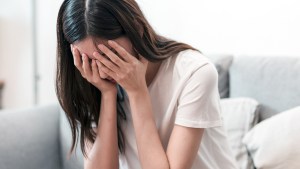 Read more:
Is it depression or burnout? Here's how to tell the difference