The special bond between twins is one that science continues to explore with amazement.
The special bond between twinsis well known, and there's plenty of scientific literature on the topic. If you have a friend who's a twin (or you are one yourself!), you know what we're talking about. Twins often share common views, decide and speak in unison, and seem to be able to do this even while being miles away from each other.
Bao Kou Julie Yang and Bao Nhia Julie Yang have gone a step further to demonstrate to the world just how deep the twin bond can be. These twin sisters, who are both wives and mothers, became pregnant (one for the second time), but then both suffered miscarriages.
Losing a baby brings great sadness, and they gave each other mutual support, which they say united them even further. The two women recovered and soon after found out they were both pregnant again. What's more, they realized their due dates were only a few days apart.
Nine months went by filled with sisterly support and family affection, meaningful conversations, and confidences. Then, on November 4, one of the twins telephoned the other to tell her she was going to the hospital because she believed she was starting labor, and that delivery would be soon. Within a few hours, her twin began to notice signs that her baby was also ready to be born!
At the hospital, Bao Kou Julie Yang and Bao Nhia Julie Yang were placed – without realizing it – in contiguous rooms. This time, there were no problems or complications, and the twin sisters gave birth to their respective babies. The children are known as "rainbow babies" – children born after a miscarriage, stillbirth, or neonatal death, who bring great joy after the sorrow of having lost a child. To seal the memory, the twins' babies were named Nadalie (purple) and Canda (pink.)
The sisters, who live in California, didn't hesitate to take a picture together with their newborn babies as proof that the connection between twins is alive and well.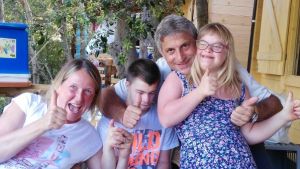 Read more:
How a mother's miscarriages prepared the way for joy in adoption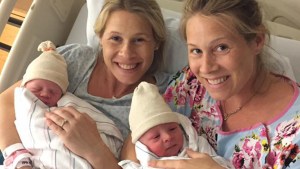 Read more:
Identical twins give birth within hours of each other