Amidst the stress and chaos of moving, my family experienced a powerful reminder of the joy of Christ.
We are in the middle of moving to a new house. At the worst possible time of the year, naturally.
It's not far from where we live now, but packing up and moving a house full of furniture, kitchenware, books, clothes, and toys is a time-consuming and stressful endeavor no matter how far the distance. For the last several weeks we've been purging, packing, and labeling, with the goal of being completely moved in the week before Christmas.
Of course, we haven't put up a tree or the Nativity scene or any Christmas decorations. Usually we do it soon after Thanksgiving, but it didn't make sense to do it before we're in our new house. The lack of Christmas in our house has effectively kept the spirit of the season at arm's length. We see our neighbors' lights, their trees glittering in the windows and the cheerful Santas on front lawns, but we don't feel it because it isn't real for us at home, yet. It's making Advent real in a new and visceral way, and I'm surprised by  how hard that's been. The waiting, the longing, especially coupled with stress and busyness, is making this a long season indeed.
Last week as we drove to an evening soccer game, my 6-year-old watched the Christmas lights pass with his nose pressed against the car window. After a few minutes he sighed and said, "Mom, will it ever be Christmas for us?"
The simplicity of his question broke my heart a little. It's not just the decorations we're missing, it's the joy of the season. It's been set aside in the tumult of packing, getting lost in chaos and stress. But no matter how stressful and chaotic life is, this should be a season of joy for our family — we should be able to take joy even in the wait, because we know what's coming.
The next day, I went out and bought an Elf on the Shelf — a thing I swore I'd never own! — and some Christmas slippers with jingle bells on the toes. Before the kids got home from school I got out our copies of beloved Christmas books (The Clown of God and Twas the Night Before Christmas) that had been destined for the day's packing and set them on my nightstand.
That evening before bed, I put on my slippers and read the Christmas stories to my children. They were delighted by the jingle bells on my feet and comforted by the familiar stories, and their eyes began to shine with little sparks of joy. When they awoke to find the elf perched merrily on the kitchen island, those sparks became real flames.
"An elf on the shelf!" my 6-year-old lisped happily.
"Christmas is coming to us even though we're not ready yet, Mama!" my 8-year-old said contentedly, leaning against my side.
I was struck by the truth in that statement. Christmas is coming to us even though we aren't ready … it will come this year much like it came on the first Christmas, amidst stress and chaos and a long, weary journey. And for such a small baby, He brought the world much-needed, undeserved joy and mercy.
They were such small things I got for my kids, but they brought us all joy. We talked that evening about how Christmas came in a small little baby after a long, long wait, and how that baby transformed the world and gave us hope and joy for all time.  And for the first time, I grasped the importance of the waiting period of Advent. I think my kids will experience the power of the Nativity coming after the long wait of Advent in a new way this year, too.
I'm so grateful that we aren't ready this year, and that we got to experience the gift of knowing that Christmas is coming to us anyway. I pray it's a blessing we never forget or take for granted. And I pray that we find a way to live Advent more fully next year … preferably without a week-before-Christmas move.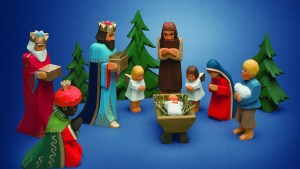 Read more:
Nativity sets from around the world tell the same "greatest story ever told"