Let us silence ourselves, to listen to the song of the Angels and the crying of the Child, not stifling them by noise and confusion.
Mary set out and traveled to the hill country in haste to a town of Judah, where she entered the house of Zechariah and greeted Elizabeth. When Elizabeth heard Mary's greeting, the infant leaped in her womb, and Elizabeth, filled with the Holy Spirit, cried out in a loud voice and said, "Blessed are you among women, and blessed is the fruit of your womb."  

—Luke 1:39-42
Reflecting on the mystery of the Incarnation, St. Irenaeus of Lyons (d. ca. 202) wrote that "God is man's glory. Man is the vessel which receives God's action and all his wisdom and power." In these final days of Advent, the Church shifts her focus from the advent of Christ at the end of time, to preparing to celebrate the Nativity of Christ at Christmas. In a particular way, this Sunday we are invited to reflect on Mary, the Mother of Jesus.  
In the story of Mary's visit to her elderly kinswoman Elizabeth, we are presented with two women who are living in expectation. Elizabeth, pregnant with John the Baptist, and Mary, carrying God-Incarnate within her, embody the hopes and expectations of Israel. Theirs was a waiting full of promise: "People who have to wait have received a promise that allows them to wait. They have received something that is at work in them, like a seed that has started to grow" (Henri Nouwen, from the essay "A Spirituality of Waiting").
This kind of waiting is never a movement from nothing to something. Rather, it is a movement from something to something more.
In his own time, God had called the holy men and women and prophets—Abraham, Sarah, Moses, Ruth, David, Isaiah, Jeremiah, and so many others—to prepare the way for his Son. And, in Mary and her Child, the promises, hopes, and expectations of God's Chosen People were finally being fulfilled: "from you shall come forth for me one who is to be ruler in Israel; whose origin is from of old, from ancient times … He shall stand firm and shepherd his flock" (Micah 5:1, 3a).
Read more:
Biblical travel: How far to where, and what about the donkey?
For centuries, a sign of God's covenant promise to Israel was the Ark of the Covenant. The Ark was an icon of God's presence, a reminder that God was in their midst, accompanying the people as they wandered through the desert and fought to claim a home and identity (see Exodus 25:21-22; Numbers 10:35-36).
At the Annunciation, Mary became the new, living Ark of the Covenant, who carried God within her. In Mary, God was how present in a person, in a heart. And, just as David danced before the Ark of the Lord (2 Samuel 6:14), John the Baptist, still in Elizabeth's womb, leapt for joy because the Lord had come.
In these last days of Advent, Mary teaches us how to receive the Word of God, whose coming we to celebrate at Christmas. As St. John Paul II observed,
She exhorts us, first of all, to

humility

, so that God can find space in our heart, not darkened by pride or arrogance. She points out to us the value of

silence

, which knows how to listen to the song of the Angels and the crying of the Child, not stifling them by noise and confusion. Together with her, we stop before the Nativity scene with intimate

wonder

, savoring the simple and pure

joy

that this Child gives to humanity. (Pope St. John Paul II,

Angelus

, December 21, 2003)
Read more:
Gifts under the tree might not surprise you, but pope reveals how to find surprise this Christmas
Offering a prayer of thanks for those who bring joy to your heart and who have handed on the gift of faith to you.   
How are you being called to carry Christ to the world this Christmas?

How does Mary's humble service challenge you to live your faith in a more dynamic way during these final Advent days?
Words of Wisdom: "The scene of the Visitation also expresses the beauty of the greeting. Wherever there is reciprocal acceptance, listening, making room for another, God is there, as well as the joy that comes from him. At Christmas time let us emulate Mary, visiting all those who are living in hardship, especially the sick, prisoners, the elderly and children. And let us also imitate Elizabeth who welcomes the guest as God himself: without wishing it, we shall never know the Lord, without expecting him we shall not meet him, without looking for him we shall not find him. Let us too go to meet the Lord who comes with the same joy as Mary, who went with haste to Elizabeth (Luke 1:39)."—Pope Benedict XVI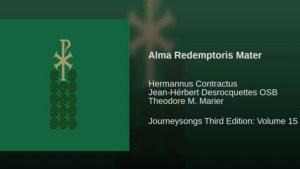 Read more:
This Advent Marian hymn points the way to Bethlehem