Pastor Heber Brown III has started a nationwide incentive to give church-goers affordable healthy produce.
When Pastor Heber Brown III saw an increased number of his congregation with health issues as a direct result of their diet, he decided to take matters into his own hands — literally. The pastor of the Pleasant Hope Baptist Church in Baltimore came up with the idea of using the 1,500 square-foot piece of land surrounding the church to grow fresh produce, such as kale and summer squash.
The church-grown vegetables were then sold to members of his church at more affordable prices than in the local shops. Although the crops produce an impressive 1,100 pounds of fresh fruit and vegetables, Brown came up with the idea of also including local farmers markets into his healthy eating incentive. By installing pop-up farmers markets after Sunday service, the 38-year-old pastor is boosting the local farming community while helping the local church community provide healthy meals for their families at more affordable prices.
But there was another surprise benefit to this healthy food program: As Brown explains in Washington's Top News, "We saw attendance bump up in our worship, we saw a great energy … and it went so [well] here, that I wondered what would happen if we could spread it through other churches and create a network of churches that do the same thing."
So the green-thumbed pastor founded the The Black Church Food Security Network in 2015 that encourages a "sustainable, community-centered, food system supported by Black Churches and Black Producers, led by those most directly affected by food inequity." Statistics from the Johns Hopkins Center for a Livable Future demonstrating that 34 percent of African Americans in Baltimore live in a food desert — where there is little accessibility to fresh, healthy food — compared to 8 percent of white Americans, so this incentive couldn't have come at a better time.
Other churches from different denominations, made up of parishioners of various races, are also signing up to the food network. Brown is determined that his initiative can help fix the food poverty issue that families throughout America are struggling with. Instead of just relying on charities and government he believes that "solutions for the long haul have to spring from those who are most directly affected by the issue."
The #BlackChurchFoodSecurityNetwork made a historic move last month by helping to fund the installation of a hoop house at an inner city #BlackChurch in #Baltimore! Anchored and led by Black Churches & Black Farmers, we are creating an equitable food system piece by piece! pic.twitter.com/dVDk3RLOa9

— Heber Brown III (@HeberBrown3) August 1, 2018
Although some people may find it odd to mix faith with nutritional needs, Brown believes the church is just the place to mix these two life essentials: "Spirituality and agriculture have a deep relationship that is outlined in sacred scripture and that is practiced in weekly gatherings in worship spaces, and so I have no problem getting people to buy into this vision."
With Pope Francis recently encouraging "human fraternity" at the inter-religious meeting in Abu Dhabi, we can't think of a better way than churches coming together in a bid to keep their congregations well-fed and healthy.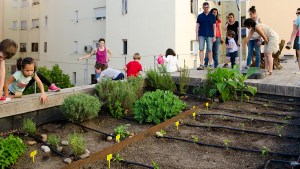 Read more:
Urban gardens are on the rise — and here's how easy they are