These angels must have been awe-inspiring for people in the Middle Ages, whose experience of color was limited to shades of brown and beige.
Everybody has a different impression of how an angel might look. In the unlikely event that medieval scholars really pondered the number that could dance on the head of a pin, they would have been imagining something very much smaller than most believers had in mind. Artisans of stained glass have also shown a lot of imagination. Their renderings have always been colorful, and the concept of a celestial, airborne being is ideal for the medium of stained glass, perched up high as it usually is.
Colored glass arrived quite early in the history of Christianity, probably in the 7th century, but took a while to develop its full storytelling potential. Over the centuries when reading was something that only the scholarly elite could manage, the average illiterate person could instead gaze up at a world of wonder. As the cathedrals of Europe still inspire awe in a modern sophisticate, how much more impressive must the sight have been for medieval viewers whose experience of color was limited to shades of brown and beige?
Launch the slideshow
Among the many biblical stories that began to be proclaimed through glass, angels were prominent, although they can sometimes be lost amid the kaleidoscope of larger windows. When the French developed enormous rose windows at cathedrals such as Chartres, it would have been hard to do anything but be lost in open-mouthed astonishment. The angels in there would have been visible to viewers with the sharpest sight, but it was the overall impression that really mattered. To this day, it's hard to think of any art installation that can compare in terms of scale and dazzling ingenuity.
Angels could be part of the big picture, or they might appear in smaller windows as the central character of episodes in Christian teaching. Sometimes they were little more than heraldic gofers, existing to hold their patrons' shields.
When stained glass was popular throughout Western Europe in the Middle Ages, the existence of angels was not questioned. They were a useful device for artists looking for a bridge between this world and the next. The arrival of the Reformation could have spelled the end for angels, just as saints and the Virgin Mary were banished from the visual arts. Strangely, their existence was tolerated and depictions continued despite the inevitable misgivings of John Calvin. He was especially intolerant of guardian angels: "Those who limit the care God takes of each of us to a single angel, do great injury to themselves and to all the members of the church." Where they were deemed especially useful was at the deathbeds of the godly, assisting the righteous on their passage to heaven.
For Catholics, the Creed makes it clear that angels have a part to play. For other denominations there is usually enough leeway given that they have continued to appear in stained glass – at least where the denomination does not abhor the use of colorful windows. And of course, angels bridge the Judeo-Christian biblical gap as well. The Jewish artist Marc Chagall depicted some especially charming examples at All Saints Church in southeast England.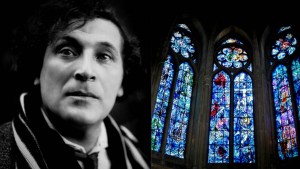 Read more:
The biblically-inspired "peace windows" of Marc Chagall
Although America was a bit late for the formative years of stained glass, some of its greatest artists caught up with their numerous depictions of angels. Louis Comfort Tiffany, more famous for his lampshades, produced a vigorous depiction of St. Michael. Rather more masculine than usual for an angel, dressed in chainmail armor, the image was produced for the First Lady of President Harrison. It hung for many years in a Presbyterian church before ending up at the Indianapolis Museum of Art. The inscription from Ephesians is an excellent choice for the medium: "Awake Thou That Sleepest. Arise from the Dead and Christ Shall Give Thee Light."
Perhaps the most spectacular use of angels in recent times is at Brasilia Cathedral, where Marianne Peretti created one of the largest expanses of stained glass ever seen. Enormous metal angels hang from the ceiling in front of her glass, bringing another dimension to the subject. It is a joyous late-20th century interpretation of a sacred motif.