I believe that Our Lord is asking for victims who are willing to suffer much in reparation for sins, especially those of priests.
You can get Aleteia inspiration and news in your inbox. Our specially curated newsletter is sent each morning. The best part? It's free.
Sign up here
When was the last time you said to yourself: "If only there were a Jesuit here to tell us what to do!" As I write this, I know that I am unable to ask the readership for a show of hands. Nonetheless, I can point to you a Jesuit, one I am sorry to say you've likely never heard of before—a Jesuit who I think should be telling all of us what to do.
I am pleased to introduce to you Father Willie Doyle, an Irish Jesuit who was killed in battle in France during World War I. He had all the characteristics that St. Ignatius Loyola intended for the members of the Society of Jesus: a deep love for Christ rooted in the Spiritual Exercises; an acute awareness of his own sinfulness; a radical trust in Divine Providence; a profound reverence for the priesthood; a zeal for souls; a readiness to lay down his life for Kingdom of God.
I had the privilege of learning about Father Doyle very recently. In preparation for interviewing the editor, I read, To Raise the Fallen: A Selection of the War Letters, Prayers and Spiritual Writings of Father Willie Doyle, S.J. (You can find the book HERE.) Editor Dr. Patrick Kenny maintains a fascinating website to keep alive the memory of Father Doyle. (That web site can be found HERE.) I had a live interview with Dr. Kenny last week. (The audio and a resources list can be found HERE.)
Father Doyle was not, on the surface, the kind of man whom you would expect to run to the front lines of battle. The frailty of his health nearly drove him out of religious life. Yet his desire to prove his gratitude for grace and his trust in Divine Providence pushed him to do just that. Although comrades later testified that he felt fear as much as any normal man would, he rushed to the fallen in battle—to rescue the wounded and to give aid and comfort to the dying. Nothing could deter him from that mission, and his determination to be faithful to that call eventually cost him his life.
Leaving training camp for the slaughter taking place in France, he penned these words to his father:
I set out to face to future with a certain amount of trepidation … Strange to say, I have not the smallest anxiety about the possible dangers of warfare, not so great for me, as for others, but I do dread the horrors of the battlefield which all say no words can picture. Still it is a consolation to know what a comfort the mere presence of a priest is to both officers and men alike. They are one and all going to face their duty with the joy of heart which comes with a clear conscience; many of them had not been to confession for over twenty years.
He knew, as every priest should, that a priest can offer a remedy for souls that no other man can give—the grace of absolution. To the young whose lives were snatched from them in the carnage of war, it must have been a great consolation for them to know that God had sent a messenger and a healer to them in their final moments.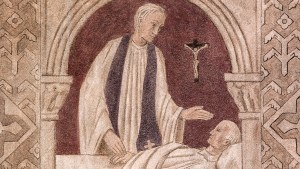 Read more:
A practical step to ensure a holy, happy death
What kind of man would undertake such a daring mission? We can begin to find an answer when we learn that (in consultation with his provincial superior, his confessor and his spiritual director), he made the following vow just a few years after his ordination:
I deliberately vow, and bind myself, under pain of mortal sin, to refuse Jesus no sacrifice, which I clearly see He is asking from me. Amen.
Father Doyle clearly knew that all priests are called to live sacrificially, in imitation of and in union with Christ the Eternal High Priest. Sadly, he knew in his time (as we know in ours, alas!) that not all priests live up to that high calling:
I believe that Our Lord is asking for victims who are willing to suffer much in reparation for sins, especially those of priests … The great light of this retreat, clear and persistent has been that God has chosen me, in his great love and through compassion for my weakness and misery, to be a victim of reparation for the sins of priests especially; that hence my life must be different in the matter of penance, self-denial and prayer, from the lives of others not given this special grace.
As a Jesuit and as a priest, I have to examine my life in light of the heroic life in death of my brother, Willie Doyle. Please, give a copy of Dr. Kenny's book to every priest you know.
When I write next, I will speak of a warning from the Gospel of Mark. Until then, let's keep each other in prayer.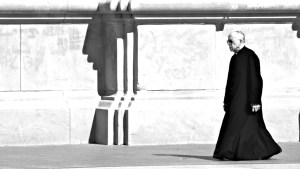 Read more:
A cassock: Work clothes, not a dress uniform