These tangible ideas will help ensure that the season of Lent is special for the whole family.
Lent is right around the corner. That means 40 days of fasting and penance. It may mean giving up alcohol, sweets, or social media as a form of spiritual housecleaning. As a father who still has very young children in the house, Lent is a time of particular reflection for our family. With their growing bodies and still-developing minds, it isn't prudent to have them fast or dwell too seriously on the problem of sin. With children, it's more helpful in the early years to emphasize unconditional love and forgiveness.
Even beyond that, most of the memories from those early ages won't be about theological lessons but, rather, about time spent with family. Some holidays, like Christmas and Easter, come ready-made with memory-making traditions. Lent? Not so much. How do we make this a meaningful season of the year for our children?
Here are a few thoughts …
Get your ashes
Children respond strongly to sensible forms of spirituality. They love incense, priests dressed in fancy clothes, and beautiful artwork in churches. Nothing will impress a child that the season of Lent is special more than receiving ashes on their forehead. Unlike receiving communion, there's no minimum age or requirement to get ashes; even babies get them.
Mardi Gras
Mardi Gras, or Shrove Tuesday, developed as a day to get rid of all the luxury food items in the pantry before Lent started. Everyone would clean out the fridge, make a feast, and have a party. No child is going to say no to starting Lent off with the chance to eat cake.
Give something up, save the money, and donate it
If the kids decide to give up soda, sweets, or snacking, it's helpful to show that the experience has direct, positive results. Save the money that would've been spent on those items and make a donation to charity. The kids will be proud.
Clean out the closet
If Lent is a time to clean out your heart, it's a fitting activity to clean out the closet. Give away extra clothes and toys to someone in need.
Add something positive
Giving up bad habits is great during Lent. It's also a great time to take up a new, good habit. Write encouraging notes to each other, read a spiritually uplifting story, or make a prayer poster and pray for someone each day.
Color and pray the stations of the cross
Mental prayer is a demanding discipline. Most adults I know struggle with it. Creativity makes all the difference, and making your own Stations of the Cross will motivate the whole family to focus and pray together.
Tour the local fish fries
One of the admirable aspects of Lenten spirituality is that, even though it's a season of fasting and abstinence, no one said that fasting and abstinence can't be fun. Where I live, fish fries are everywhere on Fridays in Lent. The local newspaper has a contest to vote on who has the best and there's lots of good-natured competition among churches. My parish's fish fry is the best, by the way.
Make your own pretzels
The pretzel is a classic Lenten treat, and nothing is better than making your own and then enjoying the delicious results of your labor when the pretzel is hot out of the oven. This project promotes family bonding time and also a bit of learning about why the pretzel is so special.
Time spent with family is never wasted, and the memories we help create for our children will be treasured for a lifetime. No matter what you do to help your families have a meaningful Lent, it is effort well spent.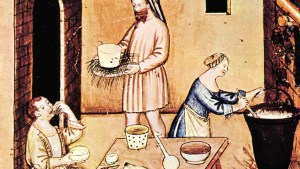 Read more:
"No red meat Lent" too hard? Here's how the medievals did it