A mere 500 years ago, Catholics were hiding their faith on both sides of the planet. Persecution was rampant in Japan and in England.
Catholicism tends to proclaim itself loud and clear. Bells, incense and massive buildings do nothing to divert attention. It hasn't always been like that. On the Celtic fringes of Europe during the 9th century, churches were built in valleys so that Vikings sailing past wouldn't spot them and start pillaging.
A mere 500 years ago, Catholics were hiding their faith on both sides of the planet. Persecution was rampant in Japan and in England. A little further west than that, the Americas were a safe haven. This was the time when the missionaries and conquistadors went forth into regions of the world unknown to Europeans and multiplied their congregations. Those Spanish and Portuguese who headed west to the Americas reaped extraordinary rewards in terms of human souls, as well as enough silver to throw European economies into chaos.
Those who headed east towards Asia faced different obstacles. Instead of taking over the spiritual life from California to Cape Horn, they ended up in little pockets of big nations that were often hostile to alien religious practices. Life for Catholic artists was as tough in 16th and 17th century England as it was in Japan at the same time.
At both sides of the world, believers resorted to hidden expressions of faith. Despite the harrowing scenes in the 2016 Martin Scorsese movie Silence, Japan had more to offer than rugged, hand-whittled pendant crucifixes. The clandestine paintings that survive are a fascinating fusion of East and West. Usually in the form of portable shrines, they are triptychs in which the central panel is a classic Western devotional scene. The rest of the icon is typically Japanese lacquerwork, giving no exterior indication of what was contained within. Although they were once commonplace, very few of these items have survived; those that have were usually taken back home by Westerners. Hidden though they were in Japan, many icons were destroyed by the authorities. The next hazard was being in Nagasaki, the Catholic center of Japan.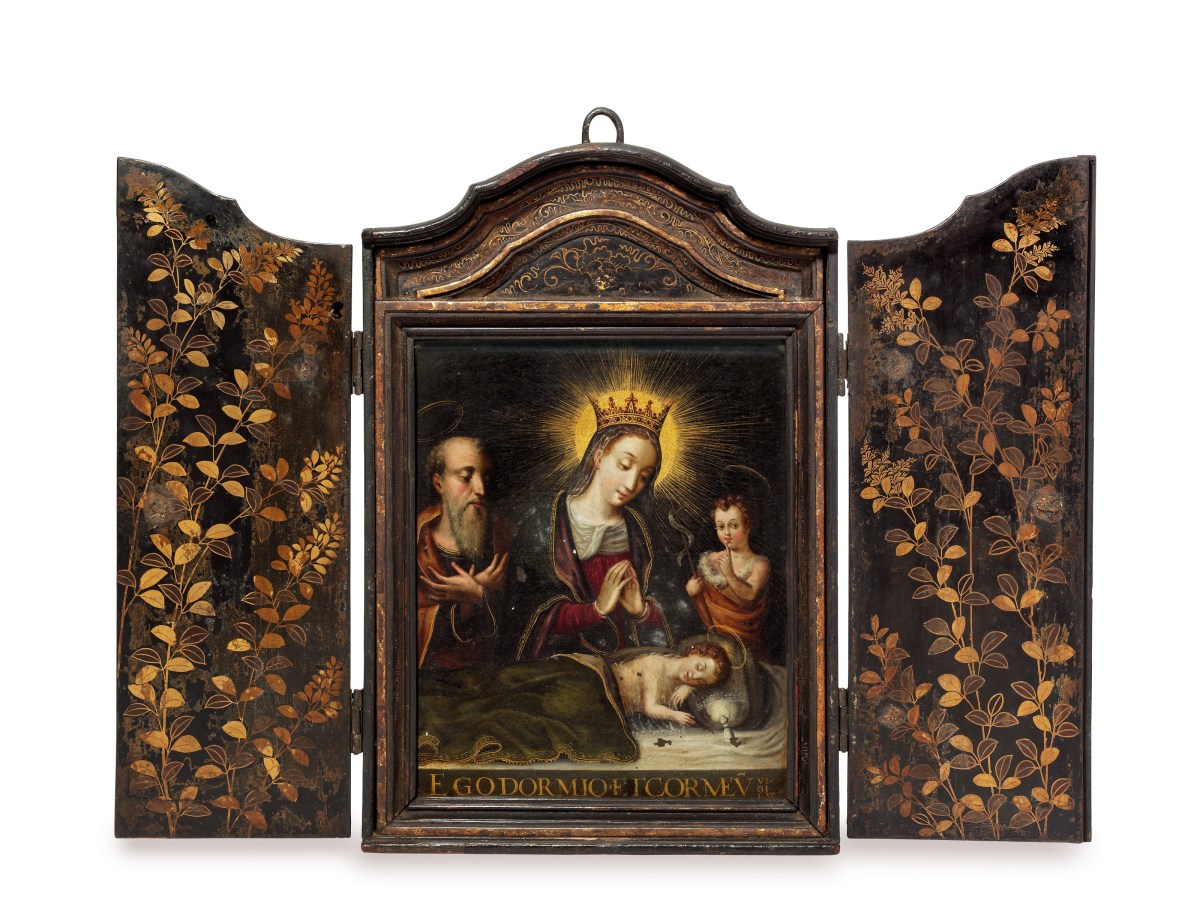 Launch the slideshow
Japanese Christians also turned to Kwan Yin, the Buddhist Goddess of Mercy, as a substitute for images of the Virgin Mary. The visual similarity between the two has often been noticed, but it seems that the anti-Christian militarists of pre-modern Japan didn't make the connection, not even when there were crosses and other Christian symbols placed upon Kwan Yin (Kannon in Japanese).
In China, as well, it is possible that some of Kwan Yin's popularity grew as a covert gesture of Christian belief. Christianity was at various times prohibited in the Middle Kingdom as well as in Japan, although at other times it was welcomed. The career of Jesuit missionary Matteo Ricci shows just how popular Catholics could be with Chinese emperors when they brought the right technology with them. On other occasions there was less tolerance. During the Boxer Rebellion of 1900, it is estimated that 33,000 Chinese Christians were massacred. Catholics fared especially badly, accounting for perhaps 30,000 of those deaths. It's no wonder that Chinese Catholics made their Kwan Yin/Virgin Mary lookalikes seem as Buddhist as possible.
The Virgin Mary was no more acceptable to English Reformation or Puritan iconoclasts, and there was no possibility of pretending that Our Lady was actually Kwan Yin. It would have been one more crime of idol worship. The Catholics of Protestant England had to be even more discreet than their co-religionists in East Asia. While Christian imagery was something exotic and barely understood in China and Japan, it was very familiar to fanatical English priest hunters.
The priority for Catholics during the Reformation and for the next three hundred years was being able to celebrate the Mass. The emphasis was therefore not on crucifixes for personal use or for hanging on a wall. These were too visible, although pectoral crucifixes were small enough to be hidden inside a plainer-looking cross to avoid detection.
The real essentials were chalices and other liturgical objects of the Mass. Protestants used chalices too, but theirs were as plain as possible, while Catholics retained old-style solemnity and precious metals. One solution was gold or silver chalices that had a crucifix etched on the base but could be taken apart to avoid detection. Once dismantled, they didn't look much like a chalice. Another solution was to smuggle liturgical items from Ireland or the Continent. Anything made of gold or silver in England needed to be hallmarked, and there were always spies in the assay offices.
This surveillance went right to the top. Despite being a devoted Anglican, Queen Elizabeth I was attached to Catholic paraphernalia. The Protestant clergy were scandalized to find that she kept a crucifix and candles in her private chapel. When it came to her public image, however, she couldn't afford to look like a Papist. One of Elizabeth's most important portraits features a piece of jewelry depicting a Pelican in Her Piety – a potentially idolatrous image of a mother pelican feeding her young with her own blood (because Catholics viewed it as a symbol of the Eucharist, in which Christ feeds us with his Body and Blood). Was this a relatively discreet example of where her true sympathies lay? Politically she was an all-out Protestant but like her father, Henry VIII, her personal faith may have been something quite different.