The funny thing about grace is that ... it works.
When I was in high school, I was intent on being so Catholic that I would put everyone else to shame. Not the best idea, I now realize, but it motivated me to join every possible youth group at my church. There was the rowdy meeting with a hundred kids, a band, and a ton of pizza. There was the small group discussing all the deep questions of life. And there was the girls-only group, called Catholic Life Communities.
CLC was different from any other youth group I've encountered: You were expected to be committed. So committed, in fact, that we had commitment ceremonies. You made promises to pray and attend meetings and to take a leadership role in the group, then got a special cross and a blessing as your friends and family smiled approvingly.
It was a wonderful way of getting young people to invest in their faith community. And it encouraged real growth in holiness. Members had to promise to attend Mass on Sundays, candidates twice a week. And full members committed to going to Mass every day.
Because I wanted to be the most successful churchgoer there ever was, I became a full member as soon as they would let me. It might be the best decision I ever made. Because that evening, with my freshly printed driver's license displayed proudly in my brand new wallet, I committed to going to daily Mass.
It was rough going for a while. Daily Mass isn't generally scheduled to be convenient for high schoolers, and while the 6:15 a.m. Mass technically fit in my schedule, there were a lot of mornings when I "overslept."
But I had made a commitment. So I kept trying. Eventually, I graduated from high school and from CLC, but it didn't seem right to stop going to daily Mass. So I didn't. Through college and grad school, through years as a teacher, and now in two dozen countries and nearly 50 states, in 16 languages, in cramped chapels and glorious shrines and once on the side of the road.
I don't speak all those languages. It doesn't matter. These days I pull up the readings on my phone, but even before smart phones it didn't make a difference. Whether I speak the language or not, I speak the Mass. I murmur the English response while the congregation speaks Japanese or Maltese or Czech. And I usually manage to say "hosanna" and "amen" along with them.
Sometimes, of course, I'm at Eastern Rite liturgies, during which I'm completely lost. I don't know when to sit or when to stand or how many times to cross myself (I generally guess three, but keep going until everyone stops). But the Eucharist is the Eucharist, whatever the liturgy, whatever the language. Jesus is Jesus.
That's what I'm there for: Jesus Christ himself, fully God and fully man, body, blood, soul, and divinity, made present for me, to hand himself over for me as fully as he did on Calvary. It's why I spent an hour tonight searching low-tech websites for Mass times in Taiwan, why people in remote areas walk for hours each way. Because he's worth it.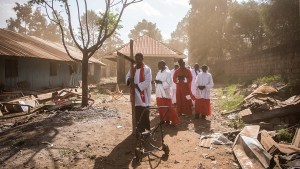 Read more:
Imagine waiting for hours, in stifling heat, for the possibility of Mass and the Eucharist
Ideally, when I go to Mass, I pay attention, I fix my heart on the Lord and allow him to transform me. But sometimes I'm exhausted or distracted or just unable to speak the language. And it doesn't matter. Because I lay my heart on the altar alongside the bread and wine. Whether it's boxed wine or a $200 bottle, it's transformed into the body and blood of Christ. And I'm called forward to receive him so that the same thing may happen with the meager gift I offered him: the gift of my life.
I'm not sure who I would be today if I hadn't made that commitment nearly 20 years ago. It's not holiness that's kept me in the pews, it's stubbornness. But that stubbornness meant that in times of doubt, I was at Mass. In hectic seasons when there just wasn't time, I was at Mass. When prayer is dry and I've got more productive things to do, I'm at Mass. When it's simply impossible to get to Mass, it almost always turns out not to be impossible, and there I am at Mass.
The funny thing about grace is that it works. In times of doubt and distraction and aridity and overcommitment, the act of showing up, of being present at the Passion, death, and resurrection of Jesus, of receiving him in the flesh—well, it changes things. Whether you notice it or not.
There may be seasons in your life when daily Mass just isn't a possibility. And there are many places where daily Mass is unavailable or just inaccessible, scheduled at a time when only retirees can attend. But if there's any way you can attend daily Mass, even once a week, consider making a commitment. You may find, 20 years down the road, that it's the best decision you ever made.
Read more:
5 reasons Mass didn't bore the saints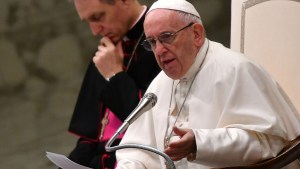 Read more:
Shhhh! Why Pope Francis wants you to stop talking during Mass