Meet the men who are encouraging internet users to clean up their neighborhoods!
There has been a plethora of challenges started on social media that have stretched across the continents. We've seen celebrities pouring ice water over their heads and more disturbing challenges that encourage people to aspire to unobtainable physical "perfection" (remember that thigh-gap challenge?).
Now the #trashtag challenge is sweeping across nations, encouraging people to seek a whole new kind of perfection: a cleaner environment.
People are taking to social media to share photos of their neighborhood before and after massive clean ups — and the results are pretty staggering. Although the challenge has been doing the social media rounds for a while now, it was only when Byron Román took to social media to appeal to "bored teens" to help clean up their living environment that the challenge really took off.
Román's photos showing the contrast between a heavily littered woodland before the challenge and after are incredible, so it's not surprising that this very visual example has had such a huge impact on others. The photo itself was originally posted by Román's friend in Guatemala, with a similar message in Spanish. The tags, #BasuraChallenge — "basura" means garbage in Spanish — and #Trashtag are now being shared across the globe, with people accepting the challenge and posting their results.
From parks to beaches, neighborhoods are getting a good clean up, which is doing wonders for the environment. And what's really satisfying is seeing whole communities get involved, notably the many young people who are taking an interest. As Román shared with Time Magazine: "When teens get bored, that's like the worst thing you can ever have — actually, any person being bored. So, I thought, maybe someone will pick up the challenge and do something positive about it."
40 Norwegian Folk High School students from Alta spent one-week picking trash at a local beach, gathering a total of 12,400kg! We can't help but love the fact this is catching on globally! #trashtag#trashtagchallenge#norwaypic.twitter.com/hezXhGvHaQ

— trashtagchallenge (@trashtag2019) March 11, 2019
While this social and environmental movement is having a huge impact on our neighborhoods, it's all thanks to one man in particular. Back in 2015, an Indian lawyer, Afroz Shah, took to Versova Beach in India — known for its huge amounts of litter — and started cleaning it up. While this solitary act earned Shah the prestigious United Nations' environmental honor as a Champion of the Earth in 2016, it kick-started the initiative of people taking responsibility for their own living environments, and invited them to get their hands dirty for the good of the planet.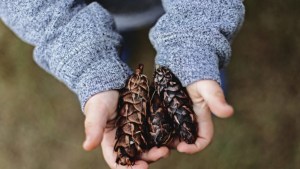 Read more:
5 Environmental habits to instill in your kids right now
Read more:
With this daily gesture one man has single-handedly planted a forest