Brother Lawrence suggests a key to living in a continual state of serenity.
With all the difficulties of life, it should be no surprise that our souls can be negatively affected by the anxiety we face on a daily basis. During intense periods of stress, finding peace in our soul may sound like an impossible endeavor.
Yet, for Brother Lawrence, a Carmelite monk of the 17th century, peace of soul is attainable if we follow a simple rule.
He writes in a letter how he "began to live as if there was none but [God] and I in the world."
I beheld Him in my heart as my Father, as my God: I worshiped Him the oftenest that I could, keeping my mind in His holy Presence, and recalling it as often as I found it wandered from Him. I found no small pain in this exercise, and yet I continued it, notwithstanding all the difficulties that occurred, without troubling or disquieting myself when my mind had wandered involuntarily. I made this my business, as much all the day long as at the appointed times of prayer; for at all times, every hour, every minute.
Brother Lawrence explains how "when we are faithful to keep ourselves in His holy Presence, and set Him always before us, this not only hinders our offending Him, and doing anything that may displease Him, at least willfully, but it also begets in us a holy freedom and if I may so speak, a familiarity with God."
This simple way of "practicing the Presence of God," opens the door to a peaceful heart, united to the heart of God. If we are able to bring to the forefront of our imagination the truth that we are, in fact, always in God's presence, we can then begin to feel his peace enter our soul. Nothing can disturb a person united to the heart of God, even when difficulties arise.
Try it out this week and keep God always in your thoughts. It won't be easy, but you may be surprised by the results.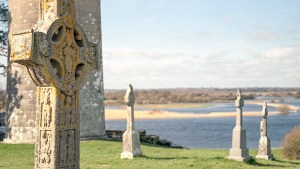 Read more:
Here is a helpful meditation technique used by Irish monks of old
Read more:
7 Christian meditation aids for beginners