Illness separated them for several months, but now they've been reunited.
Aldo and Giordano are an Italian couple who have been married for 62 years; today, they're 90 and 86, respectively. Despite their desire for a family, they never had children, but their love has never faded.
We don't know much about their lives, except that they met when Giordana and Aldo were on vacation. They married, and have experienced many joys and difficulties together, arm in arm …  until last December when they were separated, against their will, by age-related health problems. Aldo's general health declined and he broke his femur, so he was confined to a wheelchair and needed full-time care. As a result, he had to move into a facility suited to his needs in another city. In the meantime, Giordana was taken into a family-style home for the sick and elderly in her hometown because she could no longer live on her own.
Both Giordana  and Aldo have no family members who are able to bring them to visit each other, nor the knowledge of how to use modern means of communication. So Aldo, an old-fashioned gentleman, took pen and paper and began to write to his beloved Giordana—reportedly a habit of theirs whenever they're apart. She replied enthusiastically, and daily, with an affectionate style that was anything but antiquated—rather, with a touch of discreet but intense passion:
"Aldo, my beloved, I would like to say so many good things to you, but I'm sure you can imagine them, because our situations and concerns are similar. I constantly feel your presence at my side. The content of my letters cannot manage to express to you how much pain it causes me to live in this precarious situation. Let's hope that divine Providence won't abandon us, now that we truly need it. I think of you always, and I send you all my affection. You know, don't you, how much your Giordanina loves you? I'll be going to bed shortly, and this is one of my saddest moments. Under the covers, I hold my arms tightly across my heart, and I feel you there with me. I tell you all my feelings and I say how much I love you." (quoted in RavennaToday).
Aldo, reading these words, told those around him that if he had the chance, he would marry her again "a thousand times." We know this thanks to Patricia, the daughter of another woman in the same retirement home as Aldo. She befriended Aldo and shared the couple's story with RavennaToday.
The story has a happy ending. According to the same news source, on March 9, Aldo was able to transfer to the same facility as his wife. Their daily correspondence will no longer be necessary, as once again they can embrace and share their thoughts and feelings in person.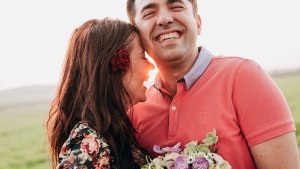 Read more:
3 Things all happily married couples do everyday
Read more:
Wailing of lonely elderly couple brings police and pasta