Their granddaughter expounds on their simple but profound advice.
Earlier this month, D.W. Williams, 103, and Willie Williams, 100, celebrated their birthdays as well as their 82nd wedding anniversary surrounded by friends and family in Charlotte, North Carolina. The two have lived through the Depression, the World Wars and the Civil Rights Movement together and say they have no secrets for a lasting marriage except "to be nice to each other."
Their granddaughter, who hosted the celebration, says her grandparents are "her inspiration." She had a little more to offer as far as the couple's secrets to a happy marriage: "Trust and communication; loving each other, working together; they are each other's best friends."
It's plain to see when watching the beautiful clip of the family singing a hymn at their place of worship, First Mayfield Memorial Church, that their faith in Jesus has certainly been the cornerstone of this lovely couple and their beautiful family. May God grant them many more happy years!
Read more:
The unexpected secret ingredient for a happier marriage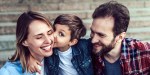 Read more:
Should you prioritize your marriage over your children?