And it's extremely profound.
The constant challenge for the Christian is to find God in all things, recognizing his presence among us and responding to his promptings within our heart. Practically speaking this is difficult to maintain, especially when the mind is constantly distracted.
One way to help keep our focus on God is to pray short prayers throughout the day, especially when we are doing the most mundane things.
For example, here is a prayer from a spiritual manual that dates to 1856. It's a prayer for when you are undressing, and carries some surprising spiritual symbolism.
Divest my soul, O my Jesus of all sin and of all affection to sin; of all pride and vanity; of all self-will and self-love; of whatever is in the least displeasing to thy Divine Majesty.
The prayer is simple and recalls our need for conversion and to "take off" all sin that we are attached to. It is a humbling prayer, one that reminds us that we are always in need of improvement and must take away that which prevents us from drawing closer to God.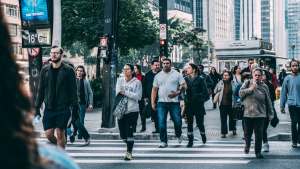 Read more:
Here's a prayer for when you are walking down the street