A trip to visit a young patient inspired this father to help other children in the hospital.
Being hospitalized can be a very daunting and miserable experience for a child. Thankfully, this is about to change thanks to a dad from North Carolina named Kevin Gatlin.
Gatlin was visiting a friend's child in the hospital when he started thinking about how his own child would cope in similar circumstances. The inventive dad and his wife put their heads together to try and come up with a fun, interactive way to keep children amused while they were being hospitalized.
After his wife pointed out that they often played board games and did homework on the largest piece of furniture in the home — the bed — Gatlin came up with the idea of creating bed sheets with colorful board games and educational tables printed on them. Thankfully he could turn to his mom, a school teacher, and several other teachers, to discuss the best amusing and educational games to include in the designs, and two years later Playtime Edventures came to light.
"We put together bedsheets and slumber bags that cover everything from Geography, Math, Science, Grammar, word find games, over-sized game boards … all on a three-piece set," Gatlin explained to NewsWest9.
With his passion for kids as a driving force, Gatlin wants to see his bedsheets used in all hospitals. It's certainly not about the profit though. "You're a business and you have to make money. There's a lot of ups and downs — but when you notice a child utilizing your product for what it's meant for, that's priceless," he explains.
People are now ordering bedsheets online and donating them to hospitals. Then once the child is due to return home, hospitals often allow them to bring their bedding with them, to use while they continue convalescing at home.
The bedsheets are currently being used in 10 US hospitals, as well as in hospitals internationally, but If you'd like to donate bedding to your local hospital, then click on Playtime Edventures to place an order.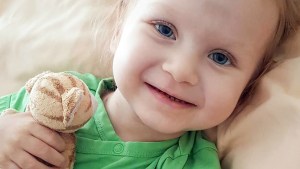 Read more:
When a child's illness brings grace to all those around her
Read more:
Hospitals trace their origins to early Christianity