We share in the Great Commission to give to simple folk what no government or university or business can give, but only a priest can give: Jesus Christ and his bride, the Church.
Here is the Chrism Mass homily delivered by Bishop Robert C. Evans, auxiliary bishop of Providence: "Blessed is he who comes in the name of the Lord."
~
The acclaimed English actor, Sir Alec Guinness, in the first volume of his autobiography, Blessings in Disguise, recounts an incident that occurred while he was playing Chesterton's priest sleuth, Father Brown. After a day's filming, he was walking through a French village while still in costume, a cassock. A small boy ran up and took his hand, walking along, and chatting happily in French. Finally, he scampered off waving a cheerful, "Au revoir, mon pere!" Guinness records how smitten he was with the experience, wondering that the mere cassock of a priest could inspire such childlike trust and joy. Eventually, Alec Guinness and his wife Merula would be received into the Catholic Church.
The people of God want to trust priests, because they sense innately that we have been singled out by God for a vocation not of our own choosing, for a mission we did not invent. Jesus prayed for his first priests at the Last Supper in these words, and I quote them because I think their message is relevant especially today: "I revealed your name to those whom you gave me out of the world. They belonged to you, and you gave them to me, and they have kept your word… I pray for them. I do not pray for the world but for the ones you have given me, because they are yours… I gave them your word, and the world hated them, because they do not belong to the world any more than I belong to the world. I do not ask that you take them out of the world but that you keep them from the evil one. They do not belong to the world any more than I belong to the world. Consecrate them in truth. Your word is truth. As you sent me into the world, so I sent them into the world. And I consecrate myself for them, so that they also may be consecrated in truth."
Read more:
What is Jesus doing in the tabernacle? The Bible's answer
Perhaps it can be said that truly do we live our consecrated priesthood as we bestow upon the people of God in this world those other-worldly gifts entrusted to our stewardship. We accompany from birth to death those whom we serve, generation after generation, offering them not what the world gives but what only God can provide. We are there when infants are washed clean of original sin and born again into eternal life, when children experience the mercy of God in First Penance and are nourished by the bread of angels in First Communion, when as children or young adults they receive the seven-fold Spirit in Confirmation, when couples commit in marriage to a covenant of love open to the gift of new life, and when the elderly or infirm are anointed with the oil of the sick in order to strengthen them for the final contest. We preside at funeral rites, consoling the bereaved and making intercession for the deceased who have passed beyond our ministrations to face the judgment of a just God.
And in between, we are offering Holy Mass, catechizing the faithful in faith and morals, forming the young, comforting the suffering, advising the confused, encouraging the struggling, visiting the ailing, heartening the immigrant, promoting justice and peace, and interceding for all in prayer. The ordination promises we will renew in a moment remind us that all we do is done in conformity with Jesus Christ, who with a brother's love called each of us to form our hearts after his own. All this we do only by following Christ the Head and Shepherd. It is therefore due to no merit on our part that God has called us and no achievement by us that we have been ordained. Rather, we have been created, called, formed, and consecrated for a work not of our own making, for a life chosen for us. Persevering in this vocation does not depend on human stamina or single-mindedness but on a divine power beyond our control but always at our fingertips.
A priest is expected to love others more than he loves himself, for he has been chosen to incarnate Christ's love in a world that has become skeptical of his worth and all too often heedless of his admonitions. That there can be great discouragement and frustration is not unusual, especially when we are not as trusted as we used to be. If we have forfeited the trust of some, we must remember not to forfeit our trust in Jesus who chose us with a brother's love—and Jesus does not make mistakes.
Two examples of flawed priests from two 20th century novels may well speak volumes to us priests. Bernanos' nameless country priest, in his book "Diary of County Priest," acknowledges as death approaches that "Grace is everywhere," "All is grace."
Bernanos' priest reflects: "We pay a heavy, a very heavy price for the superhuman dignity of our calling. The ridiculous is always so near to the sublime. And the world, usually so indulgent to foibles, hates ours instinctively." And elsewhere he notes: "Oh miracle—thus to be able to give what we ourselves do not possess, sweet miracle of our empty hands."
No priest is without his Garden of Gethsemane. The mother of Saint John Bosco said to him on the day of his priestly ordination: "You will be a priest, you will begin to suffer." Even Pope Francis has said that we priests will have those moments when "we feel nothing, the illusion of service to the Lord does not support us, and doing good is difficult for us."
In the "The Power and the Glory," Graham Greene tells the story of a deeply flawed priest, known as "the whiskey priest"; his name is never given. The novel ends with his betrayal and execution, as he knowingly walks into a trap in order to administer the Sacrament of the Sick. The anti-clerical authorities rejoice that the local province is now rid of all priests; except that, at the novel's very end, on the same day the nameless priest was executed, yet another nameless priest arrives in this same town. The book ends with Green describing how this priest knocks on the door of a faithful family; a young boy opens the door and hears the man say: "I am a priest." The boy replies: "You?" "Yes," he said gently, "My name is Father…" But the boy had already swung the door open and put his lips to his hand before the other could give himself a name."
This priest, as every priest, is always alter Christus, another Christ, regardless of his given name. He shares, we share in the Great Commission to give to simple folk what no government or university or business can give, but only a priest can give: Jesus Christ and his bride, the Church.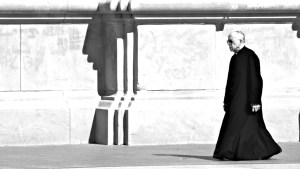 Read more:
A cassock: Work clothes, not a dress uniform
Yes, brothers, you and I are stewards of divine mysteries, unworthy as we are and always will be. But we inspire a confidence and trust precisely because the faithful understand that despite our personal unworthiness we have been chosen by God to be an instrument of divine grace, not for our sake but for theirs. If we fail, then like Peter we can weep for our sins; remember, as Saint John Paul II reminded us, people today look to priests for the 'lived' word before they look to them for the 'proclaimed' word." If we feel unappreciated, then we console ourselves with Jesus' words that we are but useless servants, but servants after the heart of Jesus who indeed chose us with a brother's love, and who will judge us on our fidelity to this calling.
When Saint Maximilian Kolbe, in that hell on earth known as Auschwitz, offered his life in place of that of a married prisoner who had been selected to be starved to death, he was asked who he was, with the implication, why are you doing this. He responded simply, "I am a Catholic priest." "I am a Catholic priest." His identity was his mission, and like his Divine Master, he went to his death as priest and victim. As has been said: "To one who has faith, no explanation is necessary. To one without faith, no explanation is possible."
Perhaps, when all is said and done, the most we can hope for is others to have said of us: He was a Catholic priest. Blessed indeed is he who comes in the name of the Lord.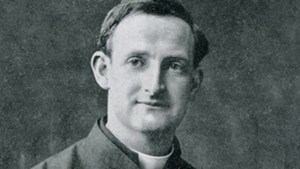 Read more:
This WWI Jesuit hero gave his life in reparation for the sins of priests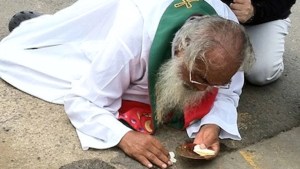 Read more:
Image of beaten priest speaks volumes about priesthood