These questions are fundamental and get to the heart of the Christian faith.
At times we will sit or kneel down for meditation and not know exactly what to do. Sometimes the best topics for meditation are in the form of questions that we can slowly ponder and search deep within our heart for the answer.
Italian priest Fr. Lorenzo Scupoli suggested two particular questions in his spiritual classic The Spiritual Combat. 
What did Jesus do for us?What should we do for Jesus?
Scupoli expands on these two questions and offers further points of reflection related to them.
Turn, then, your eyes to Jesus … Consider the magnitude of His torments and humiliations, greater than that deserved by the most vicious of criminals. Be astonished to behold Him in the midst of these agonies, not only firm and resolute, but even replenished with joy, as if the day of His passion was a day of triumph. Just as a few drops of water sprinkled upon a flame only adds a fresh intensity to its glow, so did His torments, embraced in a charity which made the burden seem light, serve to augment his joy and desire of suffering still greater affliction.
It's also important to remember that the Passion and death that Jesus endured was for you in particular. He would gladly suffer and die, even if there was only one person in the world and that person was you.
Sit there for a few moments to really let the love of Jesus sink into your soul. He suffered for you and bore an immeasurable amount of pain for you.
Then, after meditating on the beauty of Jesus' love for us, consider how that should affect our own lives. What can we do to love Jesus back in return? He has given us such a great gift, how can we live in a spirit of thanksgiving?
This is where our faith becomes concrete and we can put into action that which we have received from God.
The next time you carve out time for prayer, consider those two questions and dig deeper into them, allowing God to touch your soul with his love.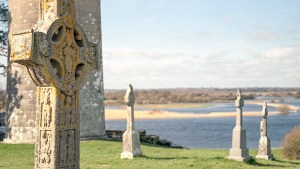 Read more:
Here is a helpful meditation technique used by Irish monks of old
Read more:
7 Christian meditation aids for beginners