Studies show that less time on our smart phones means a longer life -- so here's how to make some progress with that.
Most of us know that we spend too much time on our phones. But then we go and spend more time on our phones. Call it a love-hate relationship — it seems impossible to break up. But we don't have to look very far to figure out why it's so tough to change our phone habits. Constant time on our devices affects our brains, which in turn drives our behaviors — unless we make an effort to do things differently.
Most of the research on the effects that our phones are having on our brains has focused on the release of dopamine, the feel-good chemical that our brain releases and then gets hooked on. As the New York Times reminds us in a recent piece on the topic, "smartphones and apps are explicitly designed to trigger dopamine's release, with the goal of making our devices difficult to put down."
But studies show there's also another chemical being released when we can't stop picking up our phones and that's cortisol, our main stress hormone. Elevated cortisol levels are linked with shorter life spans. From the NYT:
"Your cortisol levels are elevated when your phone is in sight or nearby, or when you hear it or even think you hear it," says David Greenfield, professor of clinical psychiatry at the University of Connecticut School of Medicine and founder of the Center for Internet and Technology Addiction. "It's a stress response, and it feels unpleasant, and the body's natural response is to want to check the phone to make the stress go away."
The fact is, however, that only works for a few seconds or minutes — and then the stress begins to rise again.
So, what's the answer when the truth is that few of us are going to give up our phones or commit to only checking them once a day? Here are 5 occasions when you should strongly consider putting your phone down:
1
Breakfast and dinner
Typically, most of us eat these two meals at home, and we're probably not doing important business deals or taking emergency calls at those times, which means we can put our phones away — in a purse, in a briefcase, or in another room. Meals at home are a good time to spend with family members, reflecting on the day to come or the one that's almost passed. Or just enjoying quiet time, since it's better for our digestion if we're calm when we eat. There's almost never a good reason to have a phone sitting on the table at mealtime.
2
Bedtime
I know, I know … you use it as an alarm clock, you check Facebook first thing in the morning, you may get an important notification at 5 a.m, and what if you hear an intruder in the middle of the night? If you must keep your phone in your bedroom, turn on airplane mode while you're sleeping, and set it with the screen face down where you can't easily hear it or reach it.
3
Time out with friends
It's super annoying when you're out with a friend and he or she is constantly checking phone messages or social media. Don't be that person. Turn your phone down or to silent mode and keep it in your purse, briefcase, or backpack when you're supposed to be getting face-time in with people in real-time.
4
In the bathroom
Do you really need your phone in there? Make your bathroom a phone-free zone.
5
Driving the car
This can be a tough one, especially when you spend a lot of time in your car and it's practically the only time you have to catch up with friends — hands free, of course. But car time is another occasion when you can intentionally put the phone away and focus on the other people in the car, the quiet time if you're alone, music you love, or hey, maybe just being more focused on the road so you safely arrive at your destination!
The NYT's piece recommends that you spend some time noticing what apps or notifications make you feel stressed. Then, turn off those notifications and delete those apps. Cleaning up the functions on your phone that cause anxiety, and taking regular breaks like the daily occasions above, is key to better health and a longer life.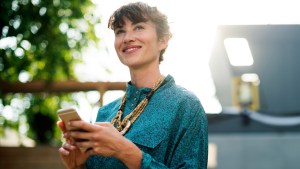 Read more:
How gratitude reduces smartphone addiction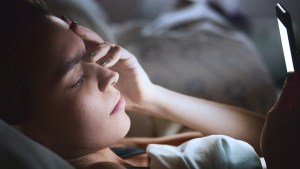 Read more:
Why smartphones before bed are toxic to your brain (VIDEO)