Secretary says it was very painful, but is now subsiding.
You can get Aleteia inspiration and news in your inbox. Our specially curated newsletter is sent each morning. The best part? It's free.
Sign up here
The infection that 93-year-old Benedict XVI has on his face is subsiding, according to the personal secretary of the pope emeritus.
On a visit to his hometown, Archbishop Georg Gänswein told a German newspaper that the dosage of the medication Benedict was taking has been reduced, as the "illness is subsiding."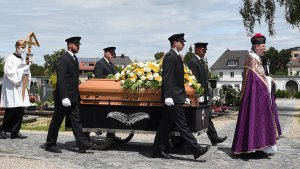 Read more:
'For all that you have done, suffered, and given me': Benedict's farewell to his brother
Gänswein said that the pain was intense — something "I do not wish for my worst enemy" — and that it had started after the death of the emeritus pope's older brother, Georg.
"Whilst very unpleasant and painful, the illness was not life-threatening," the archbishop said.