The world pandemic continues to close off tourism as Christmas approaches.
Need an idea for Lenten almsgiving?
Help us spread faith on the internet. Would you consider donating just $10, so we can continue creating free, uplifting content?
Make a Lenten donation here
Bethlehem, where Christ was born, has been one of the biggest pilgrimage sites of the Christmas season for centuries. Each year the city hosts around one million tourists to celebrate the dawn of Christianity, but this year the coronavirus pandemic is keeping them away. As a result, experts are projecting financial hardship for many in the region.
Independent Catholic News reports that around 80% of Bethlehem's residents depend on the city's tourism. These jobs include hotel workers, tour guides, taxi drivers, and the makers and sellers of souvenirs. Now, Friends of the Holy Land, an ecumenical charity that supports Christian families in the Middle East, warns that the loss of this yearly boon may cause financial ruin.
Friends of the Holy Land CEO Brendan Metcalfe told ICN:
"People have flocked to Bethlehem for centuries, especially at Christmas. It seemed like a stable source of income. Nobody could have predicted the 2020 pandemic, or that this total collapse of tourism would last so long. The whole of the Holy Land is now suffering from a lack of visitors that is set to continue deep into 2021."
A helping hand
Friends of the Holy Land has launched a new aid campaign to lend support in this trying time, called "Silent Nights." As part of the project, they produced a video, featured above, which highlights how empty the streets are. One man sells bananas to a single customer, bagging up produce from stocks that seem to be dwindling. Those who are interviewed speak of their losses in morose tones.
The ICN report also notes that even those who do not work in the tourism industry have been financially hurt. Many professional workers have had to take pay cuts, with some losing as much of a quarter of their salaries.
Unfortunately, due to the nature of the world pandemic, no one can say when the restrictions will be lifted. It is because of this that Friends of the Holy Land say their charity is more important than ever. Metcalfe said:
"We have never had to support so many people through unemployment before. Bethlehem churches who have also helped so far, are now running out of funds, and there is nothing forthcoming from the Palestinian Authority. There is no furlough scheme or other form of safety net, so people really need the aid we can give." He added, "But this tourism shutdown is lasting longer than anybody anticipated. We've launched a Christmas appeal to raise further funds to support as many of the families coming to us as we possibly can."
Learn more about Friends of the Holy Land's "Silent Nights" aid campaign here.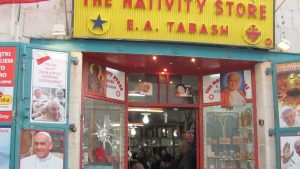 Read more:
Bethlehem shopkeeper: "Coronavirus has destroyed our life"