No tissues from aborted fetuses were used in the development of these vaccines.
Pro-life advocates warily watching the race to develop a vaccine against the coronavirus have reason to be hopeful that an immunization will soon be approved that is not only effective, but that is made without the use of cells from aborted fetuses.
Moderna and Pfizer vaccines are "ethically uncontroversial"
The drugmaker Moderna's announcement last week that there coronavirus vaccine is 94% effective is the latest promising news in the march to end of the global pandemic.
That news along with today's reports from the pharmaceutical company Pfizer that its new vaccine is 95% effective, offer hope that a vaccine will be available for limited distribution as soon as December.
Assuming both vaccines are approved by the FDA, pro-life advocates won't be faced with having to choose the one that was ethically-made. Unlike some other vaccines in development, both vaccines were made without the use of fetal cells, or for that matter, any cells at all.
According to the pro-life Charlotte Lozier Institute, in a comparison of vaccines in development, deemed both the Pfizer and Moderna vaccines "ethically uncontroversial."
New RNA technology doesn't require any cells at all
Typically, a vaccine is developed by placing a virus inside cells. The coronavirus vaccine being developed by the University of Oxford and Astrazeneca relies on the HEK-239 cell lines from a baby aborted in the Netherlands in the 1970s.
If approved by the FDA, the Moderna and Pfizer vaccines would be the first vaccines to use mRNA technology, which does not require any cells at all.
The vaccines were developed in test tubes using chemicals (RNA) and an enzyme. According to the American Council on Science and Health, this creates mRNA molecules which can them be injected into the human body. The vaccine then prompts the individual's own cells to produce the protein that stimulates an immune response.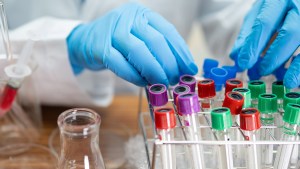 Read more:
Why have some Catholic leaders expressed ethical concerns about some coronavirus vaccine candidates?