The live-streamed event comes in preparation for the 52nd International Eucharistic Congress.
Catholics around the world are invited to attend virtual adoration of the Blessed Sacrament on November 21. The global devotional event comes as Catholic leaders prepare for the 52nd International Eucharistic Congress (IEC), set to take place in Budapest in 2021. The upcoming IEC was originally slated for 2020, but was postponed until 2021 due to the world pandemic.
Cardinal Péter Erdő, Archbishop of Esztergom-Budapest,has invited all Catholics to register for the online event. He wrote on the Corpus Domini website:
On the Saturday of the Feast of Christ the King, 21st November, we invite again everyone for a worldwide adoration. In the current epidemiological situation, where there is no opportunity to gather in our churches, we can also join in from our homes with our personal prayers. Let us take part in this common adoration, join in with your parish, your community and your family!
Twice-yearly Eucharistic adoration
On the International Eucharistic Congress website, the global Eucharistic adoration is described as a twice-yearly event. Held on the the Saturday of the week of Corpus Domini (Corpus Christi) and the vigil of the feast of Christ the King, the events honor the connections both feasts share with the Eucharist. With regard to attendance, they note that each year draws more faithful than the last. In 2019, they brought together 1,118 registered locations, while 2020 already has 2,423 communities signed up.
According to Catholic News Agency, the IEC is held once every four years to celebrate the Real Presence of Jesus Christ in the Eucharist. The Philippines was the last country to host the IEC, in 2016. The Catholic gathering schedules a wide range of religious services and functions, including Mass, prayer, catechesis, and guest speakers.
Cardinal Erdő concluded in his call to action:
Let us do this again for the seventh time together in an hour of Eucharistic adoration or praying at home on the 21st of November 2020, the vigil of the Feast of Christ the King, in thousands of places in the world.
Click here to register to join the 2,423 communities from six continents for global Eucharistic adoration.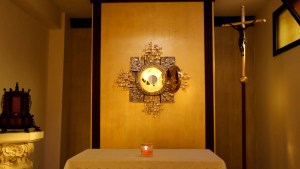 Read more:
A minute-by-minute guide for a Holy Hour of Adoration