Wednesday will be a day of prayer and fasting as legislation nears final hurdles.
After Spain on Thursday, December 10, took another step toward becoming Europe's fifth nation to approve euthanasia, the nation's bishops released a statement on December 11 that was read at every Mass this weekend, affirming that "euthanasia is a failure."
The bishops noted that the speed with which the legislation has been pressed forward in times of pandemic is "suspect," and lamented the lack of consultation and open debate. They called for a day of prayer and fasting for this Wednesday, December 16, inviting any individual or institution to join.
The progress of this law is "especially grave," the bishops said, "since it establishes a moral rupture, a change to the purpose of the state — from defending life to being responsible for inflicting death — as well as [a change] to the medical profession."
The statement refers both to the bishops' own declarations on euthanasia, as well as the Vatican's recent document, promulgated at the direction of Pope Francis.
Read more:
New Vatican document addresses euthanasia: All have right to be loved
Indignant?
"The pandemic has made evident how fragile life is," the bishops reflected, "and has stirred up concern regarding treatment, as well as indignation at how attention to the elderly has been forsaken."
In Spain, which has one of the worst rates of Covid deaths per population in the world, the death toll in nursing homes has been shocking. In this second wave, the percentage is down, such that about 1/2 of the total Covid deaths in the county have been in nursing homes; but in the spring, when Europe was hit hardest, the rate was around 2/3.
In this light, the bishops said that the pandemic has "created the awareness that eliminating life cannot be the solution to deal with a human problem. We have expressed our gratitude to the health care workers and the value of our public health system, even calling for its improvement and a greater allocation in the budget. Induced death cannot be a shortcut (emphasis in original) that enables us to save on human or economic resources in palliative care and integral accompaniment."
Instead, the bishops urged, we must invest in "the care and closeness that all of us need in the final stage of life. This is true compassion."
Pressured to die
The bishops pointed to the lessons gained from the few countries that have already approved euthanasia, warning that the right to die quickly digresses to a duty to die.
"Euthanasia incites the weakest to death. When this supposed right is established, a person who feels he is a burden for the family and a weight on society, feels conditioned to ask for death when a law pressures him in this direction."
Read more:
Mentally ill 17-year-old Dutch girl dies after being granted right to suicide
Moreover, a lack of palliative care shows forth the inequality in society, the bishops lamented, where "only those who can pay for them can count on these services."
The bishops joined Pope Francis is calling never to abandon the suffering, and to respond with "prayer, attention, and public witness in favor of a personal and institutional commitment in favor of life, treatment, and a genuinely good death, accompanied, and in hope."
The bishops urged legislators to "act in conscience, in justice and truth." They called upon "holy Mary, Mother of Life and Health of the Sick, and the intercession of St. Joseph, patron of a holy death, in his jubilee year."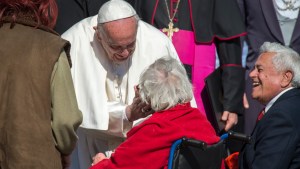 Read more:
Euthanasia isn't about being free; it's about being reduced to a dollar sign, says Pope Francis
Read more:
Catholic, Jewish, and Muslim leaders unite in opposition to physician-assisted suicide and other forms of euthanasia