Jamie Willis is continuing to serve others long after his military career is over.
As people start to discard their Christmas trees, disabled army veteran Jamie Willis will be putting some of them to good use. The US Army vet returned from several years of service unable to work due to his disability. However, he wanted to use his time to do something fruitful, and found inspiration from the cane that he'd been issued from Veteran Affairs.
Willis found the wooden stick wasn't sturdy enough, and soon realized that fellow veterans had encountered the same problem. So he decided to find out how to make a stable cane that would help him and his brothers and sisters in arms.
After contacting Free Canes for Veterans leader Oscar Morris, Willis discovered the skills needed to make not only a sturdy cane, but one that looks the part, too. As Morris shared with CNN, "You will feel broken because others will see you as broken. We make our canes for veterans to look 'cool' while giving honor for their service."
Putting his skills to use, Willis has made over 200 customized canes in recent years and is now heading up the Texas branch of Free Canes for Veterans. "I do this so I don't sit home all day feeling sorry for myself. This is all out of kindness. I do everything out of pocket and from donations," he explained to CNN.
Since the canes are handed out for free, Willis wanted to find a way to make them as cheaply as possible. His clever solution was to use discarded Christmas trees. One tree provides one cane and it takes Willis one whole day to carefully make each cane. Last year locals donated 100 of their used trees to the cause, Home Depot added another 400 to the pile.
These donations kept the vet-turned-woodworker especially busy, but as he works for a non-profit he had to set up a GoFundMe page in 2019 to pay the costs for shipping the canes to those in need. Thankfully he received over $3,000 to help with delivery costs, according to The Dad, and this year he's already arranged a Christmas Tree Drop-Off to keep him even busier in the coming months.
Meanwhile, Morris is hoping to extend the number of volunteers by increasing the number of Free Canes for Veterans branches run by veterans across the country (there are currently 5). "It would be a blessing to get the word out for more veterans to do this. Each of these veterans was on my original list of 500 in 2015. It was the act of kindness and a piece of wood that was their inspiration."
Willis now aims to help those in need of a cane, regardless of their background. For those able to receive the lovingly made stylish canes from the veterans, they'll know it's from a group of people who are selflessly continuing their duty toward others, long after their military careers are over. And for the Christmas trees that decorated our homes  symbolizing the hope of Christ's birth, what better way to see them re-purposed than by giving these worthy veterans a new lease on life?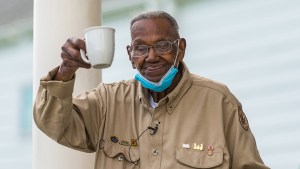 Read more:
111-year-old war veteran honored with a special birthday flyover