The Bible shouldn't just on our shelves, but should penetrate our heart.
While it is praiseworthy to have a Bible on our shelves, do we put its words into practice? Do we live the Gospel and not simply read it?
The Catechism of the Catholic Church explains, "And such is the force and power of the Word of God that it can serve the Church as her support and vigor, and the children of the Church as strength for their faith, food for the soul, and a pure and lasting fount of spiritual life" (CCC 131).
It is meant to be a guiding force in our lives, not something that gathers dust.
The 19th-century book The Catholic Monitor also reflects on this truth.
Let it not satisfy me that I have the [Bible] in my possession or that I occasionally read it. Let it be my great concern that it may have a place and a commanding energy in my heart. Let it be my care diligently to meditate upon it and let it be habitually present to my thoughts. Thus will the love and fear of God be cherished and operate powerfully in me, to my being, led to all manner of holy conversation and godliness. By the word of Thy mouth and under the influence of Thy Spirit, sin shall become more hateful to me, holiness more lovely, and I shall make the glory of my God and Savior my great and governing end in the whole of life. May I thus hide the word of God in my heart and be preserved from sin in thought in word and in deed.
The next time you see the Bible on your shelf, don't just pick it up to read it, but most of all, savor the words and let God's word penetrate your heart. Then, each day you can let the word of God be in your every action.


Read more:
3 Reasons why Jesus cried in the Bible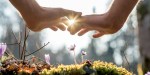 Read more:
Find strength in God's protection with this Bible verse