God's strength can give us comfort, especially when we are weathering a storm.
Need an idea for Lenten almsgiving?
Help us spread faith on the internet. Would you consider donating just $10, so we can continue creating free, uplifting content?
Make a Lenten donation here
When everything around us is changing and in disarray, we should know that the one place we can turn to is God. He can give us the comfort we need and reassure us that peace will return to our hearts.
Here is a simple Bible verse that we can pray over and over again, trusting in God's strength and putting ourselves under his protection.
Blessed be the Lord,who has heard the sound of my pleading.The Lord is my strength and my shield,in whom my heart trusts.I am helped, so my heart rejoices;with my song I praise him.Lord, you are a strength for your people,the saving refuge of your anointed.Save your people, bless your inheritance;pasture and carry them forever! (Psalm 28:6-9)
Read more:
Place yourself under Mary's protection with this prayer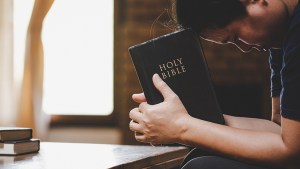 Read more:
Recite this Bible verse to maintain your inner peace