As a girl Blessed Helena wanted to be a nun, but she saw her parents' wishes as God's choice for her.
Helena Duglioli was born in Bologna, Italy, in 1472. Her parents, Silverio Duglioli and Pentisilea Boccaferri, were part of the aristocracy, but that did not tarnish Helena's natural humility. From an early age, she expressed her desire to enter the religious life. She wanted to join the Poor Clares at their nearby convent.
Her parents, however, would have none of that. Helena was introduced to a man named Benedict Duglioli and, when she turned 17, they were married. Helena accepted this as God's will, desiring to please her parents. Her husband, who was much older than Helena, worked as a notary and assisted the priests at the nearby monastery. 
Benedict and Helena were devout and lived the faith to the best of their ability. Benedict loved his wife very much and Helena came to love him too. She spent her married years very happy with the man she did not want to marry in the first place. 
They had been married 30 years when Benedict passed away. They never had any children and once widowed, Helena began to devote all of her energies toward helping the needy.
The known facts about Helena's life are few. She died on September 23, 1520, and a popular devotion to her quickly developed. History has recorded how Helena was instrumental in having a chapel built in honor of St. Cecilia, whom Helena greatly admired. The image of St. Cecilia was painted in the chapel by none other than the Renaissance painter, Raphael.
The people of her day, especially those who knew her, already regarded Helena as a saint. Her model Christian life, the example she set for everyone, and her social teachings inspired many. Devotion spontaneously expanded after her death.


Read more:
Is your marriage in trouble? Turn to St. Joseph!


A close friend of Helena's was a man by the name of Antonio Pucci. He was the nephew of Cardinal Lorenzo Pucci in Bologna. Antonio kept telling his uncle about the marvelous works and words that came from this woman. Cardinal Pucci informed Pope Julius II and his successor, Pope Leo X, about Helena. She became known throughout the Church.
The people of Bologna had proclaimed her as a saint. During the reign of Pope Benedict XIV, 1740-1758, she was recognized. Approximately 70 years later, Pope Leo XII approved the devotion, giving the official confirmation for Helena's beatification. She was beatified on March 26, 1828.  Since then she has been known as Blessed Helena of Bologna. 
Her example of how to live happily within the Sacrament of Matrimony saw her become a Patroness of Married Couples.
Blessed Helena of Bologna, pray for us.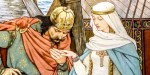 Read more:
12 Saints who were married