A furry friend helped this little boy to speak for the first time.
Autism spectrum disorders are complex, and the channels of finding connection and communication with autistic people can be unexpected.
Leon Kirby-Bulner is a 4-year-old boy with autism who was completely locked in his silent world, until he was freed from this mental cage by a 4-legged friend — his dog, Fern.
Mancub
Leon's parents nicknamed him "Mancub," like Mowgli from The Jungle Book. Wolves raised Mowgli from an early age; a puppy opened up Leon's mind to the world of words.
Leon and his family live in Andover, in Hampshire, England. Leon's autism had kept him cooped up for a long time in a world without a channel for expression. Or rather, the channels he used to express himself were indecipherable to those who were close to him and loved him.
"But the four-year-old has now turned into a confident chatterbox thanks to the help of a special friend: a cocker spaniel called Fern," writes the Daily Mail. His mother Hayley told the UK news outlet,
Leon was sadly locked in his own little world but, on meeting Fern, it was love at first sight. The pair quickly became inseparable. Mancub's first interactions weren't with humans but with Fern. He had a sparkle in his eye we hadn't seen before. He is a true animal-lover and prefers animals to people. He is now an excellent communicator, chattering non-stop.
Since Fern joined the family in 2017, the Kirby-Bulner family has been looking at their complicated challenges with an extra bit of hope. Hayley explained to Daily Mail's reporter Lucy Harvey,
The help Fern gives us every day cannot be underestimated … She helps Mancub calm down when he has a meltdown, she guards the stairs to stop him hurting himself, she gets between him and the floor when he is trying to bang his head. She generally gives him comfort when needed.
Yes, a dog was able to sniff out a path that medicine and other human efforts had failed to find.
For Leon and others
When a fresh breeze enters our our home, we feel like opening the windows and spreading it. So it's no wonder Leon's parents got busy after seeing what Fern's presence meant to their son.
They decided to help other families with autistic children, through the companionship of dogs. Today they are raising money for this cause with a crowdfunding campaign.
"Knowing what a huge difference Fern has made to our lives, and especially Mancub's, my dream is to help another family with an autistic child, who cannot afford to do this themselves," Hayley told the Daily Mail.
On Facebook and Instagram, they share Leon and Fern's moments of friendship and domestic exploits. For example, they got snow recently, and someone had a great time.
According to their Facebook page, Mancub and Fern are temporarily separated, as the boy is going in for brain surgery and the dog is going to dog school for training. His parents are confident that, although the separation is difficult, the results for both will be worthwhile.
A nice Christmas present
As I delved into this news story, I crossed paths with a similar one that had a positive development during the holidays. From England, we shift our focus to New Jersey to meet a 9-year-old boy, Mason. He too is completely non-verbal due to autism, and he suffers from severe seizures.
At Christmas, his gift was a beautiful Rhodesian Ridgeback dog named Moose. The two were actually already friends, thanks to Merlin's Kids, an association that provides free pet therapy at home. Since last spring, Mason began spending a few hours a week with Moose, and his parents had seen him blossom, with great attempts at interaction.
"He started hugging her, kissing her. I have tears just thinking about it. Like, talking to her, babbling. Almost like they fell in love. Like, I've never seen anything like it," said Mason's mother Jamie England in an interview with CBS New York's Lisa Rozner.
Buying the dog was an out-of-pocket expense for the family, costing about $30,000. Friends and family pitched in with a fundraiser, and Moose was Mason's Christmas gift. His mother shared her hope that she might hear her son speak one day.
Those who live with a child or relative who is incapable of verbal communication know how hard it is. But they also know that unexpected channels of communication can open, even without words or accomplished speech.
In the cases of Leon and Mason, the key has been two little dogs. Thanks to them, the boys' unique personalities are escaping the cage of silence.
Read more:
This one song is helping a non-verbal boy find his voice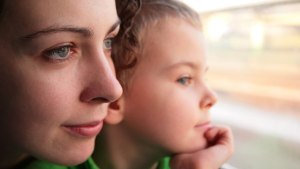 Read more:
How I'm dealing with my child's recent autism diagnosis