The Merry Beggars found a creative way to help support Catholic actors and playwrights through the pandemic.
When the world pandemic threw actors into lockdown, one Catholic acting troupe got creative.The Merry Beggars, a Catholic theater company based in New York City, turned to the once-popular tradition of radio drama. The non-profit has already released three high-quality productions and they've promised a new one every month of 2021.
The plays are not long, lasting around 10 minutes or so, but no less engaging than full-length dramas. Their most recent release, I Do Like the Rain, is a scene about a family stuck in a car on the road to visit relatives. The piece opens up with a familial interaction between parents and children. As the plot progresses the children wind down to sleep. Once they are alone, the two parents move into a serious discussion.
It almost sounds too common of an interaction to be worth mentioning, but it was a truly touching performance. In the work, they touch on themes of marriage, spiritual frustration, forgiveness, and unconditional love. In just 17 minutes the Merry Beggars make you care about these strangers, while presenting Catholic virtues to an unsuspecting audience. The most impressive part of the production was that the actors really sounded like they were in a car together, but all voice parts were recorded from isolation.
More plays on the way
According to a report from Catholic News Agency, the Merry Beggars selected their first three projects from over 120 submissions. Peter Atkinson, CEO and founding member of the Merry Beggars, said the selection process was difficult because there were so many promising scripts. It reportedly took a team of 37 judges to settle on three, but they have already decided to expand the project, selecting another nine scripts to produce in 2021.
CNA spoke with Atkinson, who explained that the group came together in 2019. Their mission is to offer a haven for Catholic actors and playwrights to pursue their craft without compromising their beliefs. Atkinson noted that it is often hard for actors to reconcile their faiths with secular projects. The Merry Beggars seek to evangelize through their radio dramas, but they also offer workshops for actors. On their website, they have a blog that discusses methods to expand the Catholic culture through artistic performance.
Of the Merry Beggars' efforts, Atkinson said:
"To me, the way that you heal the culture is you tell the truth about the human person. And the truth about the human person is that we're made for God," Atkinson said. "I think these stories do a really tender and beautiful job of touching upon our need for God and how, in quarantine, that quiet desire for God can surface in a really beautiful, tender and fragile way."
Learn more about the Merry Beggars and hear all their radio dramas free of charge on their website.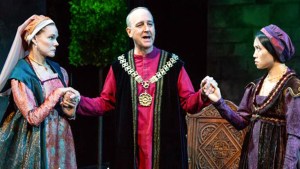 Read more:
"Unabashed" Christian theater hits Broadway with a powerful message