A coalition of Arab countries, the US, EU and many more backed the new resolution.
The United Nations on January 21 adopted a resolution to protect religious sites from acts of terrorism. "The United Nations Plan of Action to Safeguard Religious Sites" is aimed at protecting some of the most endangered cultural and spiritual locations around the globe.
According to a report from CNA, the resolution will launch an international conference to discuss implementation plans. The conference will fall under the purview of UN Secretary General Antonio Guterres, who authored the resolution. In the foreword he wrote:
"In recent months alone, we have seen Jews murdered in synagogues, their gravestones defaced with swastikas; Muslims gunned down in mosques, their religious sites vandalized; Christians killed at prayer, their churches torched." Guterres added, "People everywhere must be allowed to observe and practice their faith in peace, as affirmed in the Universal Declaration of Human Rights. Religious sites and all places of worship and contemplation should be safe havens, not sites of terror or bloodshed."
The resolution notes several threats to these culturally significant sites and denounces all attacks on them. In order to implement these protections, it calls on all UN affiliated nations to prepare immediate responses to any reported vandalism or theft.
The document also calls for peace and coexistence between religions and cultures. To accomplish this, the UN suggests all member states take efforts to instate educational programs that foster messages of unity.
International interfaith unity
The Associated Press noted that the proposal came from Saudi Arabia and was co-sponsored by Arab nations including Egypt, Iraq, Jordan, Kuwait, and more. Leaders from the United States and the European Union were also on board, helping to adopt the resolution by consensus. These member states were joined by 15 other countries from South America, Africa, and Asia.
Secretary General Guterres was charged with organizing a conference to expand upon the resolution. It is expected to draw together UN bodies, the 193 U.N. member nations, political figures, religious leaders, faith-based organizations, media, civil society and others. There has been no date announced for this upcoming conference.
Read more at the APNews and find the official UN resolution here.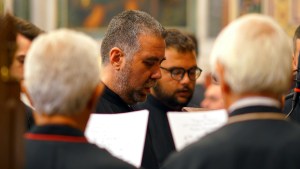 Read more:
United Nations recognizes Byzantine chant