Archbishop Cordileone enlists the arts to inspire love for humanity of all, including the marginalized.
The Roman Catholic archbishop of San Francisco, Salvatore J. Cordileone, has proclaimed a "Year for the Homeless" in his California archdiocese. 
The year will be one in which Catholics are asked to focus on, pray for and find ways to support the homeless in their midst. 
And, as Pope Francis recently offered a special Mass for a homeless Nigerian man who died on the street not far from St. Peter's Square, Archbishop Cordileone will celebrate a service for people who have died homeless. But he will take it one step further. He has commissioned a composer to write music for the Mass.
Under the auspices of the archdiocese's Benedict XVI Institute, composer-in-residence Frank LaRocca is writing a Requiem Mass for the Homeless, scheduled to be celebrated on November 6 at San Francisco's Cathedral of St. Mary of the Assumption.
In this way, the archdiocese is "combining prayers, charity, and new creative works of art to touch the Catholic imagination with the profound reality of the equal dignity of every human soul," the archbishop commented. 
"I join Pope Francis in asking all of our people to pray for those dying homeless in the streets of San Francisco and beyond," Archbishop Cordileone said in a statement. "And I also salute the heroes of Catholic Charities, the good sisters of the Missionaries of Charity and many other Catholics in San Francisco as well as other people of faith who are serving and protecting many of these suffering men and women." 
Shrine for the Homeless
In addition to the Requiem Mass, the Benedict XVI Institute has commissioned a painting, "The Patron Saints of the Homeless" by San Francisco artist Bernadette Carstensen. The work will be part of a shrine at the cathedral where the faithful can pray for the homeless. 
As well, the Benedict XVI Institute's poet-in-residence, James Matthew Wilson, will also contribute to the Year for the Homeless, with a poem inspired by LaRocca's Requiem Mass for the Homeless. 
"With the Requiem Mass for the Homeless as the capstone and with the archbishop's encouragement, we have organized a series of fundraisers via Zoom for ministries working for the needy, centered around the feast days of the patron saints of the homeless," said Maggie Gallagher, executive director of the Benedict XVI Institute.
The first event will be on Monday, February 8, the feast day of St. Josephine Bakhita, patroness of victims of human trafficking. It will benefit Children of the Immaculate Heart, a San Diego ministry that shelters and supports survivors of sex trafficking. 
Other saints of the homeless and their feast days include Benedict Joseph Labre, April 16; Anthony of Padua, June 13; Maximilian Kolbe, August 14; Teresa of Calcutta, September 5, and Francis of Assisi, October 4.
Gallagher said the motto for the year is "Pray. Love. Sacrifice. Create." 
Said Archbishop Cordileone, "May the beauty of this Mass and this painting serve to touch our hearts and infuse us with the reality that our souls are immortal and loved by God unconditionally. May it inspire us to pray more together and to help each other in these troubling times."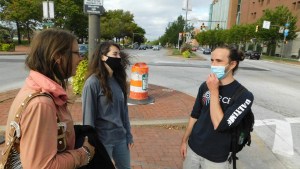 Read more:
"Urban missionaries" befriend Baltimore's homeless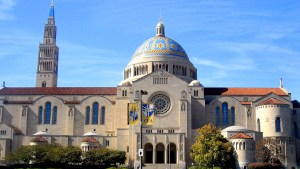 Read more:
"Mass of the Americas" to be performed for the first time in national shrine in DC