The chaplet was very popular in France and was recited at the apparition of Our Lady of Pontmain.
During the 16th century there was a fierce persecution of Christians in Japan, leading to the deaths of thousands of priests, religious and lay people. On February 6 each year the Church honors 26 martyrs who were killed in 1597.
These martyrs were officially canonized on June 8,1862, by Pope Pius IX and in France there rose a strong devotion to them. Fr. Hamet developed a unique chaplet honoring their martyrdom shortly after the canonization.
A little known fact is that this chaplet was being recited by the children who witnessed the apparition of Our Lady of Pontmain in 1871.
The late 19th-century book Les impressions d'un pèlerin ou l'Ecole de Marie à Pontmain en 1871 offers a brief description of this devotion.
The Chaplet of the Japanese Martyrs is made up of 26 red beads. It is in honor of 26 martyrs who died for the faith and crucified at Nagasaki on February 5, 1597. Among these martyrs were three children: Antoine and Thomas aged 15, Louis aged 12 years. These martyrs were canonized by Pope Pius IX in 1862. The prayers that make up this chaplet call for the mercy of Jesus Christ.The red cross and the glorious frame are formed during these prayers recited by pious children in honor of children crucified and canonized by the current great Pontiff and this Pope.
It is typically recited with similar prayers as the Rosary, with the Our Father and Creed on the large beads and the Hail Mary recited on the smaller beads.
The devotion is more widely known in France than it is in the English-speaking world, but is a beautiful way to honor those Christians who died for the faith in Japan. A complete guide in French can be found on the website of the Shrine in Pontmain, France.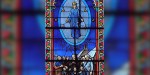 Read more:
How a miraculous vision of Our Lady stopped a Prussian army and helped end a deadly war




Read more:
The 26 men and boys who died on a hill of crosses outside Nagasaki