"There can be a synergy between chant, contemporary music, and traditional music."
Justin, a youth minister, had a shock recently when he accompanied a group of teenagers to their first-ever Latin Mass with Gregorian chant. He was nervous the teens would be totally uninterested. Instead, they loved it.
"I'm sitting there going, 'They're just going to check out. We're not going to have active participation,'" he recalls thinking. But just the opposite happened. He marveled,
They were actively engaged in the liturgy. They were singing Gregorian chant. They were having a profound experience, being brought vertically right into the source and the summit of the Sacrament of the Eucharist.
The experience opened his eyes to the ways that various types of liturgical music can support and enhance the faith life of a parish. "There can be a synergy between chant, contemporary music, and traditional music," he said.
How exactly to put this synergy into practice is the subject of his OSV Talk, "Undignified Liturgical Music" (available to watch on Vimeo and Facebook). Justin Dery is a contemporary Catholic worship leader, singer-songwriter, speaker and youth minister. He studied Music at Rhode Island College and Liturgical Music at Notre Dame, and currently serves as Director of Ministries at Saint Paul the Apostle Catholic Church, in Seneca, South Carolina. He lives in South Carolina with his wife and three daughters (and a son on the way).
The video is one in a series of OSV Talks, which shine a light on creative means of evangelization, springing from the wisdom and deep prayer that energize these approaches. The talks, which are similar to TED Talks but with a Catholic focus, are free and available for anyone to watch at OSVTalks.com.
"The thing that I find boggling is that Gregorian chant is put on a shelf," he said in his talk. "A lot of people are just like, 'Oh no, that's outdated.'"
But the Church has a rich and wonderful history of using Gregorian chant in the liturgy. Dery says it's a mistake to brush that history aside. He encourages contemporary musicians to "learn it" instead of ignoring it.
"Gregorian chant is our song!" he said. "Gregorian chant is so uniquely ours. It's the Church's, and when we hear it, we are led to a deeper place".
Respecting and honoring this tradition of liturgical music, however, does not mean ignoring other forms of sacred music. "Modern music also has a place," he said, referring to insights from St. Pius X's motu proprio Tra Le Sollecitudini (Instruction on Sacred Music). "It can, in fact, add greater efficacy to the text in the liturgy."
The goal for musicians, he said, is to make music that honors God and our Church history, while using what's best in modern-day musical expression.
Dery encourages anyone concerned with liturgical music to learn the three guidelines for liturgical music that St. Pius X outlined in Tra Le Sollecitudini. This means making music that is
Holy: not distracting from the liturgy, but guiding listeners to receive God's graces
True Art: beautifully composed and performed
Universal: leading the listener deeper into worship of God
Various musical genres can fit these criteria, Dery explained in his talk. He said, "Imagine a congregation who actively sing and pray through music, regardless of genre."
Dery outlines ways to achieve this goal in his talk. He points to King David in Scripture as an example of the attitude liturgical musicians should have.
Achieving this goal will call for a renewed humility, an openness to learning, and a slow and respectful innovation. But the work will be well worth the effort, as Catholic musicians continue making music to honor God while uniting our musical patrimony with what's best in modern music.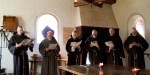 Read more:
A simple guide to singing Gregorian chant




Read more:
Pope Francis calls for end to "mediocrity, banality and superficiality" in liturgical music