How can you enter fully into the Lenten spirit when you're not participating in fasting and abstinence?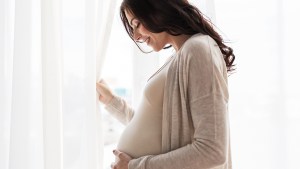 Being pregnant during Lent feels a little tricky. You're excused from fasting and abstinence, so what can you do to enter into the penitential spirit of this season?
As a pregnant woman or mom to a newborn, you might find it hard to think of something to give up this Lent. You're already sacrificing so much: your physical comfort, nighttime sleep, foods and drinks you like, and even your own body!
It's understandable if you opt not to give up anything formal this year, especially if you have a newborn and you're recovering from childbirth while being awake half the night. These inherent sacrifices, offered lovingly to God, can be the most valuable of all.
But you may want to participate more formally in this liturgical season by offering up a sacrifice or adding in a way to nurture your faith. How can we make this Lent count, and grow closer to God in the weeks ahead?
Here are 5 ways you can sanctify Lent and participate in the spirit of this season as a pregnant mom or mom of a newborn.
1
Give up something that's not food
If you find yourself wasting a lot of time on TV or social media, these are easy and productive things to sacrifice. You could even up the ante and swap this time for spiritual reading or prayer.
2
Add in a time of prayer
Praying the Rosary, reading the Bible or practicing lectio divina, or spending time in quiet meditation would all be worthy and enriching additions to your day.
3
The "5 minute rule"
One mom came up with the clever idea to wait 5 minutes before indulging in something she wants. "Instead of giving up one 'impossibly difficult' thing for 40 days, I give up a myriad of small things every day, for 5 minutes at a time."
4
Follow Pope Francis's "verbal fast"
The USCCB shares a quote from Pope Francis calling for a fast from "hurting words, complaints, bitterness." He's also encouraged us to "give up useless words, chatter, rumors, gossip."
It might be hard to give up complaining when you're pregnant, but it's certainly a worthy effort!
5
Fast from a food that doesn't affect your baby
It's not considered healthy to fast when you're pregnant or breastfeeding, but giving up certain foods like soda or sweets certainly won't do you or your baby any harm. In fact, this might be even better for baby. Most importantly it's a meaningful sacrifice for Lent.