The move follows Catholic tradition of presenting candidates for canonization for public veneration.
The remains of Venerable Cornelia Connelly may soon find a new home in Philadelphia. Plans are in motion to transfer the holy woman's remains from her burial site in England to the Cathedral of Sts. Peter and Paul. The request for transfer was made by the Society of the Holy Child Jesus, which was founded by Connelly, and is considered a step towards possible canonization.
According to the Guardian, The Congregation for the Causes of Saints, approved the exhumation. The Vatican department that determines the canonization process gave special permission to the archbishop of Philadelphia and the society. Once exhumed, a portion of the remains will be transferred to a newly constructed tomb in Philadelphia.
The Society of the Holy Child Jesus commented:
"It is a practice of the Catholic church that the body of a person being considered for sainthood should be moved to enable veneration by the faithful … It is hoped that [Connelly's] remains will provide an important focus for veneration at the cathedral of Saints Peter and Paul in Philadelphia, the place of her birth. Remains would also be retained at Mayfield school."
The plans have been approved by the Vatican, but they will also need consent from England's Historic Churches Commission. Connelly's remains are currently interred at the 14th-century chapel connected to Mayfield School. Their removal would require the breaking of a side wall of the Grade-I historic structure.
English Catholic response
While experts determine the impact such damage would have on the structure, a petition to stop the transfer has arisen. Launched by local Sussex Catholics, the petition has already garnered nearly 1,200 signatures. This too is expected to be considered before the transfer receives final approval.
Mother Connelly's descendants have also weighed in on the decision. The Tablet reports that Francesco Vanni d'Archirafi, great-grandson of Connelly's son Frank, said in support of the endeavor:
"As descendants of Cornelia, we are humbled by the extraordinary legacy that she has left us and the international interest in progressing her work and her canonization. We admire the impact that Mayfield and the Holy Child Jesus Schools have had for the last 175 years and are convinced these schools can provide much more to girls in the UK and around the globe."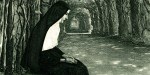 Read more:
How an American woman became a nun to let her husband become a priest