These centuries-old traditions honor the 6th-century bishop.
March 1 marks a very special day for the people of Wales as they celebrate their patron saint, David — or Dafydd, in their mother tongue.
The 6th-century bishop founded monastic settlements and churches in his native Wales. While there are lots of tales associated with the saint, the most famous is the miracle that took place as he was preaching: a hill formed under his feet and a white dove landed on his shoulder, becoming his emblem.
He lived a long life, but before he died David shared one final sentiment with his followers: "Lords, brothers and sisters, rejoice and keep your faith and the Creed, and do the little things you have heard and seen of me. As for me, I shall walk the way which our fathers went." From this the phrase "Do ye the little things in life" ("Gwnewch y pethau bychain mewn bywyd") is still a well-known saying in Wales today.
To celebrate their patron saint, the Welsh enjoy many centuries-old traditions. Click on the slideshow to see how St. David's Day is honored. Whether you're a Celt or you just admire those who helped spread the Christian faith, you might consider celebrating yourself!
Launch the slideshow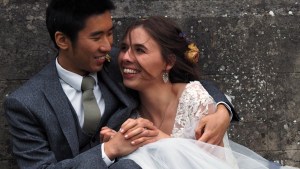 Read more:
Take a peek behind one of the first socially distanced weddings in Wales