Following his custom, Francis asks Mary for her protection during March 5-8 journey.
On the eve of his departure for Iraq, Pope Francis visited the Pontifical Basilica of Saint Mary Major in Rome to pray before the icon of the Virgin Salus Populi Romani (Protector of the Roman People).
The pope entrusted his next apostolic journey to her protection. He leaves for Iraq on March 5 and returns March 8.
Entrusting his journeys to Our Lady has become a tradition for the pope, and he makes a stop at the basilica before each of his trips.
The pontiff is particularly fond of this icon found in the Pauline Chapel of the papal basilica. He also entrusted  the world to her at the start of the health crisis.


Read more:
Virtually visit St. Mary Major, the basilica of our Mother and Protectress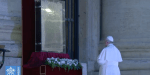 Read more:
The image of Mary that Pope Francis wanted present for his 'Urbi et Orbi' blessing