Beyond the challenges there's joy to be had.
As parents, we may be tempted not to see the hand of God at certain times, especially when some of our children are going through adolescence.
I know for a fact that, for many, adolescence passes like a gentle breeze. However, when you collide head-on with a "wild adolescence," you have the sensation of being inside a hurricane growing in intensity that affects the lives of all the people around you and causes disarray and discouragement:
There's an increase in decibels in the house, with screaming, slamming doors, or other gestures of self-assertion.
That same child who used to prefer to play in the living room instead prefers a self-imposed life sentence within the walls of their bedroom.
The pleasant family atmosphere with a tone of good humor and positivity, which you created with so much effort, is sabotaged by bad moods resulting from hormonal fluctuations.
The child who once looked at his parents with blind trust in his eyes, who was all smiles and hugs, now sees you with dubious credibility. The phrase "from hero to zero" perfectly describes the demotion that all of us parents suffer when our former "number one fan" reaches adolescence.
Discouragement, worry and a state of alarm can wear down the parents' relationship with each other, nullifying any possibility of romance.
All these details can be accompanied by small or big tragedies—consequences of bad decisions or bad behaviors by our teenage children, which often manage to deeply discourage parents: a drunken binge, an badly chosen romantic relationship, bad friendships, lies, a drop in grades, petty theft …
What was God thinking when he created teenagers?
Was God perhaps distracted when He created adolescence? To answer that question, I want to tell you an anecdote.
A parishioner was venting to her spiritual director about her teenage son's latest misdeeds. I promise you that the teenager in question had behaved really badly. The priest, after listening quietly, replied firmly: "How wonderful!"
The parishioner, very surprised, repeated a summary of what she had explained at length before, in case the priest had not understood. But the priest, smiling, repeated: "How wonderful!" The astonished parishioner thought to herself, "How wonderful??" She began to doubt the priest's mental and auditory health. Then, the priest repeated again, "How wonderful!" But this time he added, "How that son of yours brings you to your knees!"
We parents feel the need to pray
He was right. How we feel the need to pray when we recognize ourselves as small and impotent, when we "no longer control" the situation. I put "no longer in control" in quotation marks because, up to that moment, many of us might have thought that we were in control, that we were able to foresee and direct events.
But the adolescence of our children often opens a Pandora's box that reveals the truth: how little we can control in our own lives, much less in theirs. And then, it is up to us to do things:
The action that amazed the priest so much: getting down on our knees, and praying to God for our children, following the example of St. Monica.
Close our eyes and let ourselves fall into God's arms, trusting in Him, knowing that there is not a single tear—not even the one that falls, unobserved, on the kitchen counter—that God has ever ignored.
Fr. Jorge, my parish priest, told us last Sunday in his homily about a sign that read: "God is nowhere." Looking at some teenagers, we might think so. But, leaving a little space, the sign could also be read: "God is now here."
So, in Heaven, someone more than the wise priest at the beginning is probably thinking, "How wonderful!" every time adolescence brings us to our knees. And, from that perspective alone, we will understand that God wasn't distracted when he created adolescence: God was counting on it to bring his plan forward.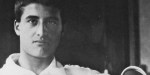 Read more:
7 Reasons your family needs to get to know Pier Giorgio Frassati