Becket's martyrdom is chronicled for all to see in a stained glass window in France.
This month the British Museum is opening Thomas Becket: Murder and the Making of a Saint after a long delay. The most colorful centerpiece of the exhibition is traveling from Canterbury Cathedral. It's a journey of only 60 miles, but this stained-glass window has not left the premier cathedral of the Church of England for 800 years. 
Canterbury Cathedral became Anglican in the 16th century, and there was much destruction of sacred Catholic vestiges thereafter. The windows depicting St. Thomas were not vandalized, unlike his bodily remains. These were by no means the only memorial to this martyr and statesman. If the British Museum had traveled a bit further, it could have chosen scenes of St. Thomas from a variety of French churches.
Chartres Cathedral's memorials to St. Thomas
Chartres Cathedral is generally considered to have the finest medieval stained glass in existence. There is a lot of it – more than twice the amount as in Canterbury. The French glass has colors that stun 21st-century visitors as much as they did in the 13th century. The so-called "Chartres blue" is a shade of cobalt so radiant it can reduce onlookers to tears of celestial joy.
The whole of Chartres was controversially restored recently. The walls became as bright as they were during the Middle Ages. There were many complaints from visitors. The windows also became brighter, and there have been fewer complaints about that.
The most surprising aspect of these windows is how such an English saint is commemorated so eagerly in France. The Chartres window is about six feet taller than the 20-foot-high Canterbury version. When the Chartres window went up, there were not the same national considerations as today. Much of France was still the domain of Norman dukes who had crossed the channel to conquer England. They hung on to their French territory, and for many generations preferred to speak their own language too.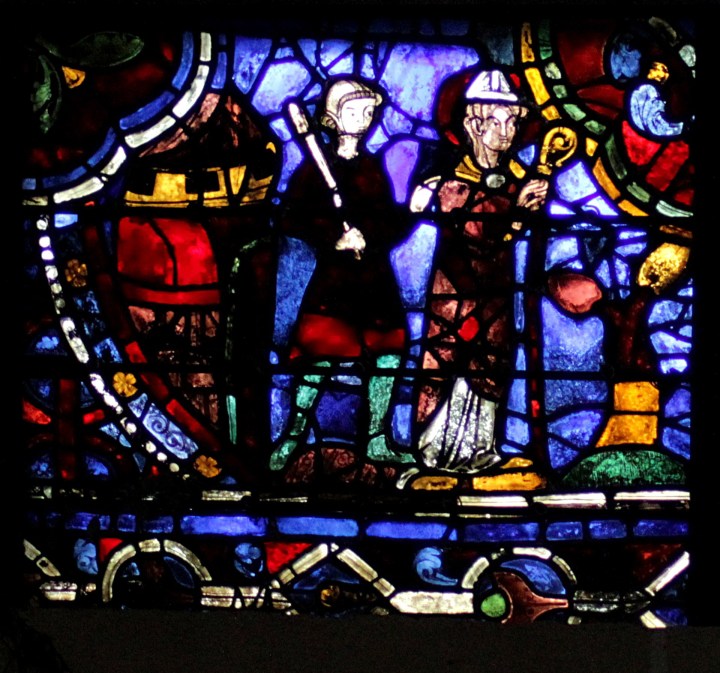 Launch the slideshow
Because of Becket's confrontations with his king, Henry II of England, he went into exile in France twice. The people there enjoyed his presence so much that after his murder by the henchmen of King Henry, it was more than Chartres that commemorated him in stained glass. Angers Cathedral was another, and Sens Cathedral did so on a larger scale It was in Sens that Becket met Pope Alexander III, who later declared him to be a saint.
The Becket window: medieval truth-telling
The Chartres windows are more spectacular than Sens, Angers – or Canterbury. They show St. Thomas Becket's life and death alongside many other saints, including St. Thomas the Apostle. Becket's window tells the whole story, with special emphasis on the time he spent in France. From his disagreements with Henry II, to consecrating a (French) church and baptizing a (French) baby, to his martyrdom at the hands of four (Anglo-Norman) knights, it was more than the life of a holy man; it was the biggest news item of its era. For a king to kill his former friend, chief administrator and leading churchman at the altar of a cathedral was an abomination.
King Henry would spend the rest of his life making amends, including public penance. The windows in their different locations form a very colorful record of an event that shook the whole of Christendom. Being very high up, they are difficult to see in their original settings. We should be grateful to the British Museum that it is showing the Canterbury Cathedral stained glass at a better height for those with poor, modern eyesight.