How fit do you need to be? Do you have to carry your bags? Here's everything you need to know to plan your trip.
The tradition of the walking pilgrimage in Italy dates back to the 10th century. In 990, the newly ordained archbishop of Canterbury, Sigerico, journeyed from Canterbury, England, to Rome to meet Pope John XV to receive his pallium — the special sign of office given by the pope to archbishops. On his return, he kept a diary in which he meticulously recorded the details of his journey.
A pilgrimage revival
This is the first historical record of what became known as the Via Francigena. In time, the route became immensely popular as Christians from all over Europe set out to Rome on pilgrimage. After the Protestant Reformation of the 16th century, however, pilgrimages experienced significant decline.
Over the past two decades – largely due the success of the Spanish "Way" to the tomb of St. James of Compostela – walking pilgrimages in Italy have made a significant comeback.
There are so many, in fact, that the Italian ministry of tourism launched a website highlighting the numerous trails.
Planning your pilgrimage
The Italian trails are an extraordinary way to connect with the country's unparalleled religious and cultural heritage in addition to its natural scenery. Many are organized by associations that provide pilgrim's passports and arrival testimonial certificates, both of which are invaluable mementos of the experience.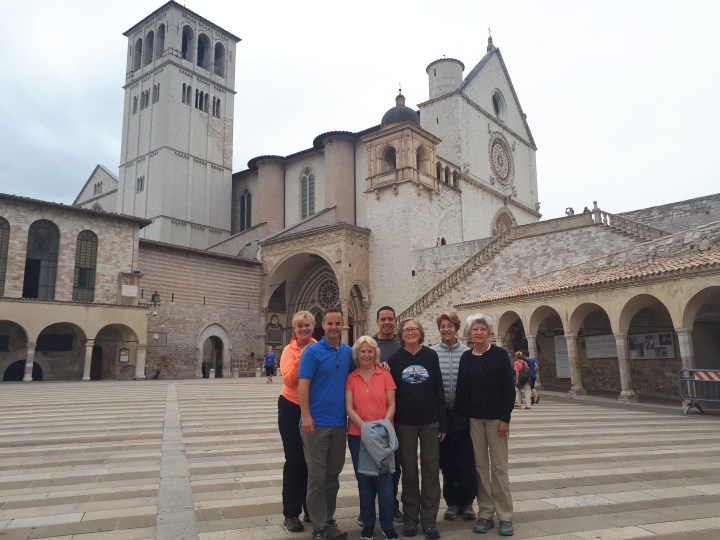 Launch the slideshow
The trails are designed to be walked solo or in small groups. Accommodations, which can be booked in advance or on the spot, can be found on the trail websites.
Navigation is assured, as well, through guidebooks on the more popular trails, sign posts, or GPX tracks. 
A GPX Track is an electronically recorded route created via GPS plotting. The tracks, available on the trail websites, can be uploaded onto a cell phone app or handheld GPS device. 
A caution about the physical demands of the trail
Though the Italian Caminos can seem romantic and inviting, a word of caution is in order: many of the trails are physically demanding. As much of the country is mountainous – its topography is marked by the Alps in the north and the Apennines that run all the way down the peninsula – there is no way to make the trail easy. 
Pilgrims frequently comment they are surprised by the rugged and varied terrain, and they were frequently unaware of the intensity of the steep climbs and descents that require exertion of different muscles they hadn't trained for. 
Thus, the more mountainous route should only be attempted by pilgrims who are physically fit.
Here's what you need to pack
Formatoriginal | Shutterstock
Once the decision is made to go, here is a list of essential items to bring on the Camino:
Hiking boots or shoes: This may be your most important purchase, as it is imperative to have good, well-fitting, broken-in footwear. Some participants prefer boots for ankle support and protection in the mountains, while others like hiking shoes (Merrell is a popular brand) or trail runners. In any case, you want footwear that is lightweight with a cushioned sole. Another important consideration is keeping your feet dry; therefore, we strongly recommend waterproof or water-resistant footwear. Not only are the inner linings of wet boots difficult to dry after a downpour, walking for long stretches in wet shoes can damage the skin.
Hiking pack: If you are planning on carrying all your gear, you should bring a hiking pack of at a very minimum of 60 liters (preferably larger). If you will be using daily luggage transport service, you can bring a smaller day pack. In either case, the pack should be waterproof, or else have a rain protective liner. 
Hiking Wear: Make sure your garments are designed for hiking or running. They should be lightweight, of poly material, and quick-dry. Do not bring cotton material which is heavy when wet (or sweaty) and takes a long time to dry; denim is worse and takes even longer to dry. We recommend bringing three sets of each garment: one set will be worn during the day, one pair is to change into after hiking, and one will be drying after being washed the previous day. 
Shorts or pants: Shorts are good for warmer walking, though in late Fall or early Spring, we recommend bringing pants with a removable legs option to convert into shorts.
Shirts: You should bring some short-sleeve running shirts; on warm days they're the only shirt you will need. When it's cooler you'll want some long-sleeve shirts, as well. You can use the long sleeves as a base layer for cold or wet days.
Socks/Sock liners: We recommend bringing hiking socks that have reinforced padding in areas of the foot prone to blistering. Some participants bring sock liners, which help prevent blisters by creating a slick surface between the foot and the sock: silk is best, but there are less expensive options.
Toiletries: toothbrush/toothpaste, deodorant, soap, shampoo, sanitary supplies, medicines, and TP for the trail.
Clothes pins and clothesline: As laundry facilities are limited on the trail, you may want to bring travel clotheslines to do some laundry in hotel sinks. Plan on around 2 to 3 meters of clothesline and four to six clothespins for hanging up laundry to dry.
Walking Poles: Though Americans are less accustomed to hiking with walking sticks, they are standard accessories for most Europeans. Experts say poles redistribute up to 30% of energy from your legs to your upper body, giving you more endurance. If you bring them from home, make sure they go in your checked suitcase, as they may not be permitted as carry-on items.
Evening clothes: After each day's hike you'll want to have something comfortable to wear, and everyone has their own preference. Make sure you bring a separate comfortable pair of non-hiking shoes like Crocs or sandals.
Cell phone or GPS unit: An operable smart phone is a standard accessory nowadays. It is handy for GPX tracks, emergency calls (if necessary), photography, and Wi-Fi. Consider getting a good international plan with data roaming, as it may come in handy along the trail.
Rain jacket or poncho: You can either bring a nicer hiking jacket (with Gore-Tex and sealed seams), or a more economical compact poncho. 
Fleece sweatshirt: On cool mornings, you should begin by layering with a fleece sweatshirt; it can be removed when you warm up and put into your day pack.
Sun/rain hat: You will want a hat with a wide brim to protect your face, ears and neck from sun exposure in addition to rain. You may wish to bring sunglasses, as well as sun block cream.
Water bladder or bottle: It is essential to carry water each day. Many participants use water bladders, like Camelbak, which makes rehydrating easy through a tube. While there are some fountains along the way, they are not always accessible, or potable. Therefore, you should plan to carry your water with you before setting out (tap water in hotels is potable). During the summer, or hot days, you should set out with no less than 4 liters (one gallon) of water.
Identification: Legally, you are required to carry some form of identification on your person at all times; it should be your passport, though it can be your state- or national-issued driver's license. It should go in a plastic or waterproof bag in case of rain infiltration. You might also want to keep your official Camino Pilgrim's Passport in the plastic bag, too.
Blister kit: The onset of blisters will necessitate prompt attention since few things can affect a Camino worse than blistered feet. It is imperative that "hot spots" be addressed before they become full-on blisters. There are many good kits on the market. 
ATM card and/or credit card: A great way to get cash is with an ATM card, or you may want to have a CC with you. But be aware that many vendors do not accept them and prefer cash, especially for small purchases. In rural Italy it's best to have cash. Make sure you tell your bank or CC company that you will be traveling abroad so they don't block your card for suspicious activity.