The popular Israeli TV show (now streaming on Netflix) that's entertaining and inspirational.
Shtisel, the multi-season television series based on the "love, loss and doldrums of daily life" of an ultra-Orthodox Haredi Jewish family living in Jerusalem, is being lauded by scholars and critics alike as more than just good TV. 
"Not since Fiddler on the Roof has there been such multiethnic, multireligious fascination about a story centering on pious Jews," reports Jeffrey Salkin in his Martini Judaism section at Religion News Service, who shares his reflections on why the show's writing is a demonstration of "great literature." 
With rumors of a fourth season and even an American spin-off in the works, I've been rewatching seasons 1–3 with my teenage sons, ages 15 and 17, in order to discuss with them the religious, social and moral issues the show brings to light — which brings me to my Top Reason #1 Catholics should watch Shtisel: 
1. There's beautiful romance, but no embarrassing bedroom scenes. While the show is not for young kids, you can easily enjoy it with your teens, Grandma or even your Sunday school teacher sitting next to you! 
Dear Hollywood, take note: It is possible to demonstrate intriguing romantic tension with fully clothed human beings. Now, I promise I'm not a prude; just a gal who recognizes creative script writing when I see it — multi-faceted characters falling in love for reasons beyond mere physical attraction, then manifesting these emotions with care, patience and dignity. For example, and without giving away too much of the story, when 20-something Akiva falls for an older widow he finds her gray hair "beautiful" then revels in a recording of her voice — such a lovely demonstration of revering "the total human person" as our faith heeds and as Pope John Paul II clarifies in his masterful Theology of the Body.
2. The prayers — I'm stealing them all …
Whether it be the lovely Hamotzi prayer the characters offer each time they eat anything that includes grain: Blessed are You, Lord our God, Ruler of the universe, who brings forth bread from the earth; or the prayer offered before partaking in even a tiny sip of wine or juice: Blessed are You, Lord our God, Ruler of the universe, who creates the fruit of the vine, I found these same prayers online and pasted them to the fridge. Lately, I've enjoyed slipping in a little Hebrew at mealtimes. 
Shtisel's characters also cling to the Psalms. The women in particular grab their Psalm books with the frequency I grab my smart phone. They read the songs of King David aloud during work breaks, before bed and even while in labor. This holy habit inspired me so much I've attempted to trade up some social media time for my own Psalm book — I'll let you know how it goes!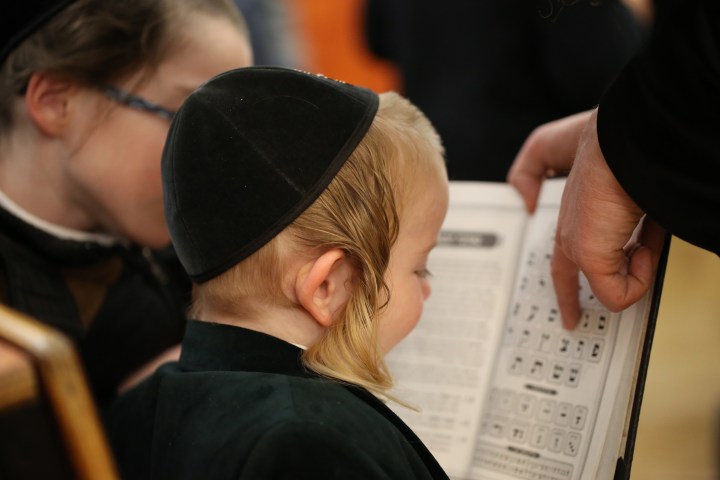 David Cohen 156 | Shutterstock
3. An intact religious community is portrayed in an inspirational way.
Season One centers around the daily life of a Hebrew boys' school where several of the characters are employed. Little boys run around wearing kippahs; bearded men with long sideburns (called payot) pray using teffilin. Nearby, outside the school's walls, women in conservative dress push strollers full of children.  All these outward signs point to an inward reality, a faith uniting these people together. 
As I watched the show, stories an elderly neighbor once told me about Catholic life in the 1950s came to mind. She described large families walking caravan-style to Mass every Sunday; Catholic schools bursting at the seams where daily routines centered around Sacrament preparation, feast days and fasting seasons. "Iron sharpens iron," my neighbor said, reflecting on how her own faith was stronger when built up by a community.  And while my own local parish has certainly changed in the past few decades, I think it's possible to be inspired by seeing an example of a faith community, one that meets in real space and time (when health and safety allows).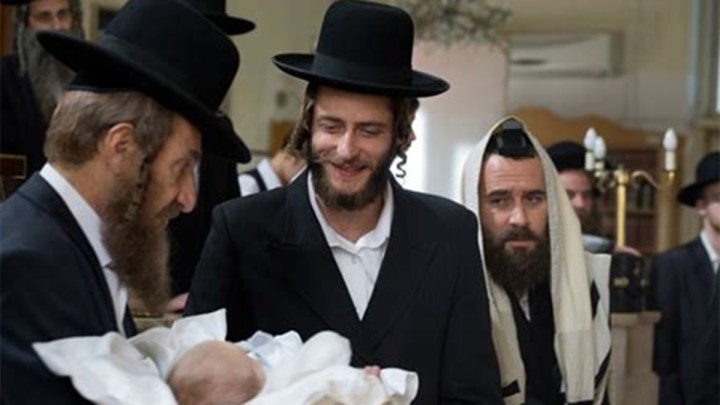 Yes Studios | Netflix
4. Sacred life events are treated with great reverence.
Births, deaths and weddings, as well as elder care and pregnancy, are all handled with the respectful nurturing treatment that should be expected. Even in a rushed wedding in Season Two, care is taken to ensure the proper number of witnesses. Viewers also get to experience a traditional Jewish funeral and a bris ceremony, where a baby boy is officially named and circumcised on the eighth day of life — the event reminiscent of a Catholic baptism in so many ways.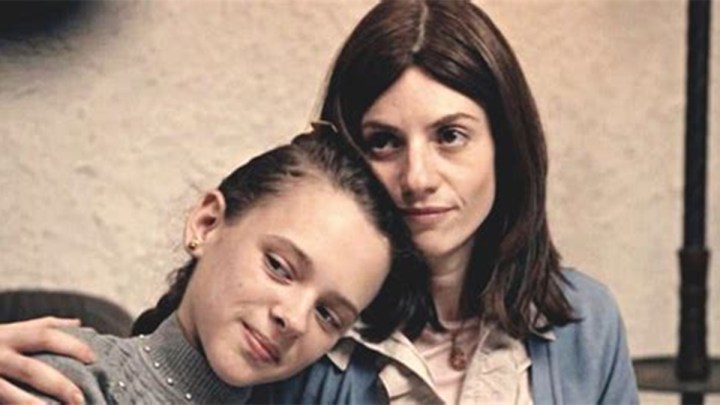 Yes Studios | Netflix
5. Women's roles — there are several great examples of ingenious female characters who handle the demands of the modern world without forfeiting their faith.
Giti's character provides endless examples of this balancing act; starting with her survival tactics during a separation from her husband, then continuing on in the way she runs a successful business —  all the while still caring for the needs of her children and leading them in the traditional practices of their faith such as Shabbos. Priceless moments with this character include the scene where she encourages a secular boy in her care to pray in order to "give thanks to God for every breath that he takes; every single bite of food and each drop of water."  
So check out Shtisel! These Top 5 Reasons are just the beginning of what makes this Netflix gem great entertainment, particularly for Catholics. I didn't even begin to touch on the show's countless displays of mercy, sacrifice and forgiveness that are always displayed with such intense realism; times where complex characters are heroic in one breath, then idiotic in the next — so much like real life!  What's more — it's something great to watch this weekend!