Here's how to be both truthful and loving to a loved one who is approaching death.
How can we help a loved one at the end of their life? How can we accompany them during their last days?
"Although it's impossible to put ourselves in their shoes, we know that one of the greatest fears of a dying person is that of being alone at the moment of the great transition. For someone at the end of life, all security collapses. They can no longer rely on their talents, experience, or bank account. This real loneliness causes them a last feeling of anguish," says Fr. Paul Denizot, rector of the Our Lady of Montligeon Shrine (Orne, France), a center for prayer for the dead, which brings comfort to people in mourning or suffering.
What can we say to a loved one who is living the last days of their life? Here are 7 tips for how to be both truthful and loving in this difficult circumstance…
1
DON'T PRETEND IT'S NOT HAPPENING
It's very important not to pretend the situation is brighter by telling the person who is going to die things such as, "Everything will be fine," "I'm sure you're going to get better," etc. If death really is on the horizon, using false comforting language can be very hard on the person who is dying.
Most of the time, even if they can see that their loved ones are avoiding the subject, they don't feel strong enough to break the taboo. If you feel that your loved one is ready to talk about death, don't be afraid to start such a conversation in earnest, while there's still time to talk about the important issues.
2
PUT YOUR OWN SORROW ON THE BACK BURNER
Sometimes loved ones can become so desperate that they cry out to the person who is dying: "You can't die," or "I need you to live!" This kind of situation is very dramatic for the person at the end of life.
When the moment of death approaches, the feelings of the person accompanying them should take a back seat. Helping the dying means accompanying them with love and tenderness, as well as a lot of calm and as much inner peace as possible.
3
BE PRESENT, LIKE MARY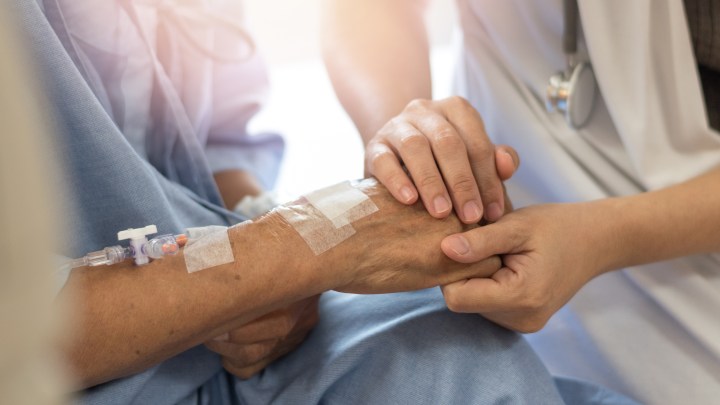 BlurryMe | Shutterstock
Illness destabilizes us and sometimes we have no words of comfort. In this case, the rector of the Montligeon shrine advises us to simply be present and to give the sick person the possibility of talking about their anguish and hopes:
You have to listen, to simply be present. Like Job's friends. Their most supportive presence came not in their pep talks or theological arguments, but in silence. Sometimes, when you're in great pain, the presence of a friend who just holds your hand, without saying anything, can be very soothing. We can compare this silent presence to that of Mary at the foot of the Cross. Mary is silent before the death of her Son. She doesn't encourage him by saying, "You can do it," or "Do you remember your promise?" No, Mary weeps and is silent. She's helpless, but she stands by the one she loves.
4
GENTLY ASK, "HOW DO YOU FEEL?
When accompanying a person at the end of life, it's essential to listen to them with the utmost delicacy. To the surprise of their loved ones, some patients open their hearts. We then find ourselves talking with them with a sincerity that can surprise us.
In this case, the question, "What are you feeling?" or "What are you experiencing?" can be liberating: it allows the patient to speak "heart to heart" with those around them.
On the other hand, sometimes this is impossible. If this is the case, you shouldn't put any pressure on your loved one, even if you feel the need to talk about these things yourself.
5
TALK TO THEM ABOUT THEIR FAMILY
By Motortion Films|Shutterstock
If the dying person breaks the silence and this gives way to a "heart to heart" exchange, don't hesitate to talk about their family, for whom the upcoming death will often be a terrible ordeal. As soon as the person on the verge of death thinks about the sorrow of their spouse or children, their own fear of death will take a back seat. The sick person will once again become a spouse or a parent who thinks of others and not only of their own death.
"Sometimes great miracles happen at the last moment of life," says Fr. Paul Denizot. As a priest, he's in the habit of asking a question to people as they approach death: "Are there things with which you are not yet at peace?"
In particular, he remembers one man who asked him to help him put his life in order. This divorced man who had left the Church 40 years earlier expressed a strong desire, before he died, to ask his wife and children for forgiveness.
6
RECITING THE PSALMS
If the person at the end of life is not feeling up to such a conversation with us, we can suggest (always with great sensitivity) that they listen to a psalm.
"The psalms have great power because they express human emotions and entrust them to God. They gather up in this way our sufferings in the face of death," explains the rector of Montligeon.
When my father was living his last days, he wanted me to recite to him psalms such as "De profundis" (From the depths I cry out to you, Lord. Lord, hear my call!), "The Lord is my shepherd," or "Dies irae" ("Day of wrath"), a sequence sung during the Requiem Mass. In the midst of the words of anger in that sequence, there is the beautiful cry: "Remember me, sweet Jesus." I understood much later why it had helped my father so much in his face-to-face encounter with death.
7
SAY "I LOVE YOU"
For believers, there are many prayers (such as the Rosary or litanies to the Virgin Mary and the saints) and sacraments (confession, Communion, anointing of the sick), as well as blessings that can help the dying. If the person at the end of life is not a believer, we can simply whisper in their ear, "I love you."
We can even simply say it in our thoughts, looking at them, tenderly caressing their hand, cheek, or forehead. In the face of death, what matters most is that they feel loved.