Choose from these heartwarming and special Advent traditions as you plan how your family will celebrate this sacred season.
What can God do in your life with one Bible verse a day?
Subscribe to Aleteia's new service and bring Scripture into your morning:
Just one verse each day.
Click to bring God's word to your inbox
We are just on the cusp of "the most wonderful time of the year," and this season feels extra heartwarming when you've got little ones at home! The world just seems a little more magical when you see it through the eyes of a child, and that's especially true around Christmas.
Even the littlest children can participate in the wonder and joy of this season as they begin to learn the Christmas story. It is amazing how profound their understanding can be, even at a young age. I saw this last year, when my toddler wanted to kiss the Baby Jesus in our Nativity set goodnight for weeks after Christmas. Her wholehearted affection for the Christ Child is an inspiration to me!
When it comes to encouraging our children in their relationship with Christ, sometimes we need to get out of our own way. There's such a temptation to overdo things, to do all the activities, all the crafts, all the extravagant outings. But the truth is that overdoing it often backfires and leads to overwhelm and stress instead of joy and peace. A slow, simple approach is best with little ones. 
My favorite family Advent tradition is the same practice that I remember most vividly from my own childhood: simply lighting the Advent candles and singing "O Come, O Come Emmanuel" together. It's so straightforward, but so deeply meaningful. I still remember the feeling of mystery and wonder that arose inside me when I participated in this ritual as a child, and I delight in sharing this profound tradition with my own houseful of little ones.
If you want to add something new this year, I do have a few ideas for you. Here are 3 heartwarming and special Advent traditions for you to choose from as you plan how your family will celebrate this sacred season. Each one will help your children understand what Christmas is all about. And they won't leave you feeling overwhelmed, I promise!
1
Mary on the Mantel from Be A Heart Design
Have you heard of Elf on the Shelf? The concept is that a little elf toy moves around your house and reports to Santa on your child's behavior. We don't do Elf on the Shelf in our family, but this year we will do something more wonderful and firmly rooted in the real Christmas story: Mary on the Mantel.
Each day, a lovely little doll of Our Lady is found around the house "nesting" and preparing to give birth to her Son. In her tiny bag, she carries with her an act of kindness for the children in the home to do that day.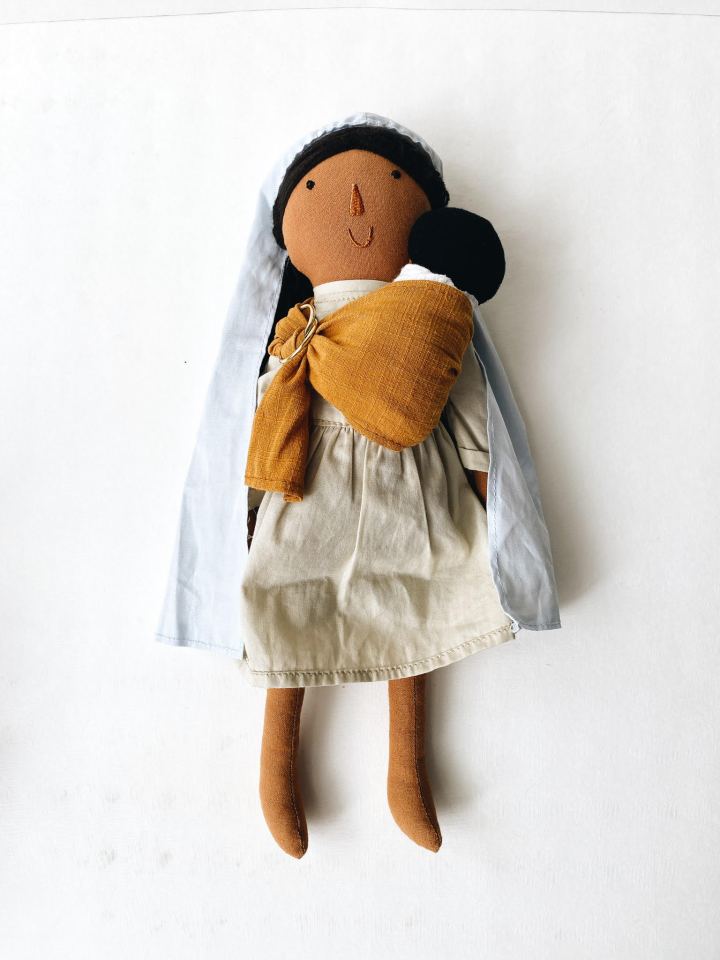 Courtesy of Be A Heart
"The idea is that we prepare for Christmas by preparing our hearts for Jesus, and we prepare our hearts by doing kind and loving things," said Erica Tighe Campbell, creator of Mary on the Mantel, in an interview with Aleteia. 
I especially love that Mary on the Mantel celebrates God's unconditional love, instead of bringing some kind of surveillance and conduct report. "Rather than Mary reporting back to God if children are good or bad, she simply helps lead them each day to her Son by her friendship," Campbell said. "It takes out the concept that we are rewarded for our good behavior and replaces it with the notion that God loves us all, and in that love, we are asked to show love to others."
Campbell put a lot of thought into creating a kit that makes this new tradition super easy to implement. "As a working mom myself, I focus most of my energy in creating things for moms who don't have time or energy to do all the crafty cute things, but still want to do special things for their children," she said. "We designed the full kit to take out all the extra work." 
The kit includes the following:
A gorgeous children's book that explains how Mary is preparing to give birth to her Son and how she needs your child's help
A caregiver guide with tips and ideas for what Mary can do around your home 
60 Acts of Kindness cards to tuck into Mary's tote bag 
A map of the Holy Land for Mary and Joseph to plan out their journey
"We have lots of ideas to choose from so that they fit a family's particular stage in life," Campbell said. "It can be really, really simple without taking out any of the fun." Her kit makes Mary on the Mantel something that can be pulled out the night before without any prep, so it truly is easy and fun for both kids and parents.
Courtesy of Be A Heart
You might have seen some buzz about Mary on the Mantel on social media or read our article about it last year. Frankly, I'm here to tell you that the doll and kit are even sweeter than you're imagining. 
My children adore our Mary doll and vie over who gets to sleep with her, and the new book and kindness cards are incredibly well-thought-out. It's the perfect tradition for modern Catholic families.
2
O Come, Emmanuel Jesse Tree Book from Catholic All Year
The Jesse Tree tradition is to read about the Biblical ancestors of Jesus every day during Advent, often along with a set of ornaments or some other visual display to represent the stories. The custom roots families in the rich symbols of the Old Testament that point to the coming of Jesus Christ. 
It's a lovely idea, but practically speaking, a long reading everyday is too much for families with little ones. Enter the Catholic All Year version, O Come, Emmanuel. This Jesse Tree adaptation is designed specifically for families with young children. For each day of December leading to Christmas, find a reading from Sacred Scripture, family-friendly reflections for the day, and a short prayer.
If you've always wanted to do the Jesse Tree, but balked at wrangling your rowdy herd for it, this is the book for you. 
3
The Little Lamb at the Manger Advent Calendar
What is it with kids and animals? My kids are about ten times more likely to be interested in something if it includes a cute animal. That's the genius of this darling little Advent calendar, featuring a little lamb who moves closer every day to the manger in Bethlehem. 
Every day of December, kids can open a new window in the panorama to discover a figure or event in the Christmas story. Then read the matching story from St. Luke's Gospel, say a short prayer together, and move the little lamb. It's a heartfelt and meaningful way to keep the focus on the real meaning of Christmas.