We asked Aleteia writers if they have a particular image of Christ that they turn to in prayer. Their answers may inspire you!


Is there a particular painting of Jesus that you turn to when you pray?
We posed this question to some of our writers because we thought their answers would be inspiring, and we were not disappointed. They came back with beautiful images of Jesus, from the oldest in existence to one painted in 1951. Their reasons for choosing the images are just as moving as the paintings themselves.
Why pray with a painting?
In his Ash Wednesday homily this year, Pope Francis wrote about the importance of prayer and how it, along with fasting and giving alms, can help "restore a living relationship with God."
"Prayer is a dialogue, warm in affection and trust, which consoles and expands our hearts. During this Lenten season, let us pray above all by looking at the Crucified Lord. Let us open our hearts to the touching tenderness of God, and in his wounds place our own wounds and those of our world."
A painting of Jesus, like a crucifix, draws the mind to the humanity of the divine Lord. It can help remind us that he became man so that we could be in relationship with him (For God so loved the world that he gave his only Son, so that everyone who believes in him might not perish but might have eternal life, John 3).
If you're not accustomed to using art to facilitate prayer, take a look at what Aleteia's writers said about the paintings that help them:
Christ Pantocrator
The image of "Jesus Christ Pantocrator," one of the earliest depictions of Jesus found in churches built during the Byzantine period, is the favorite of more than one of our writers.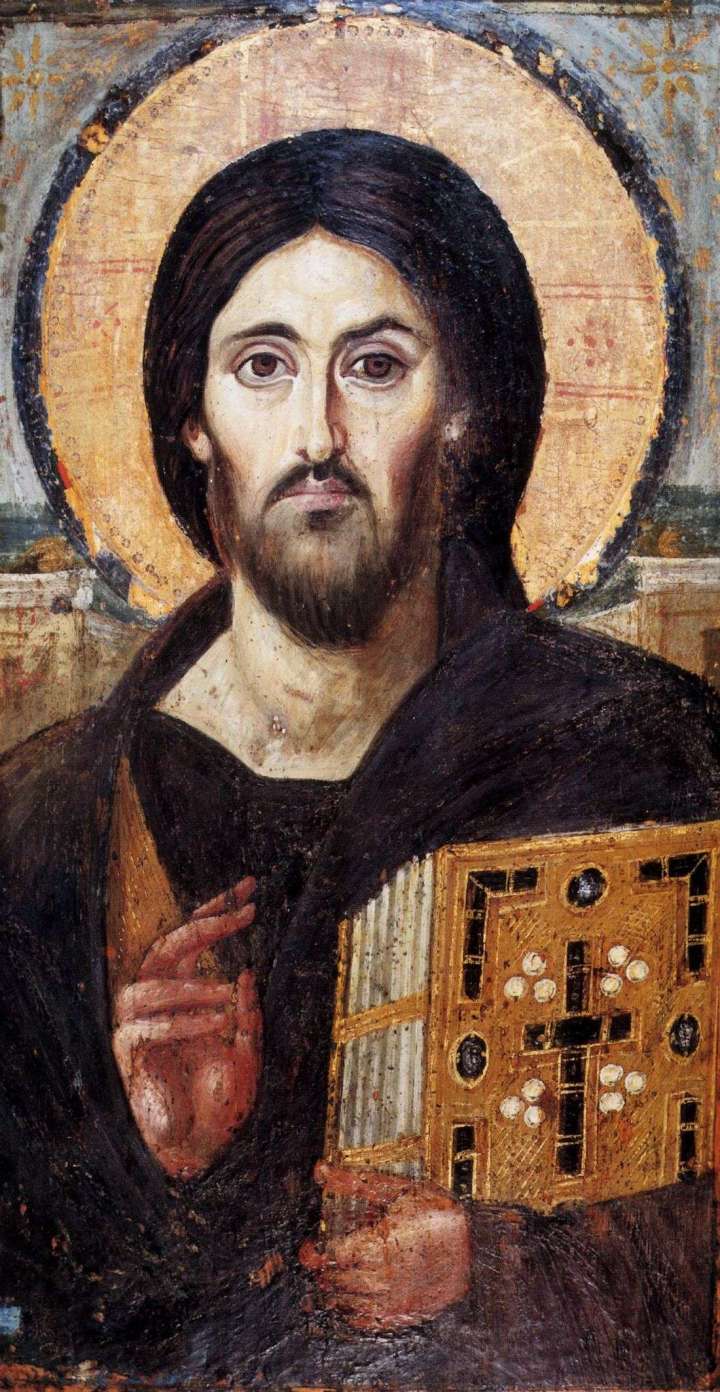 Public Domain
"The Pantocrator has become significant for my family since my wife had a stroke. I always loved that half of Jesus's face is stern and ascetic, with arched eyebrow and darkened cheek, and the other half is kinder and gentler. Now the two halves of my wife's face are subtly different, and the image reminds us of the one who transforms suffering through love," writes Tom Hoopes.
"This ancient icon of Christ is found at the Monastery of St. Catherine at Sinai. It is known as the Pantocrator, a name derived from Greek and meaning Almighty. One is struck immediately by the eyes of Jesus here — one being quite different from the other. Focusing more on the eye on the viewer's left, one is instilled with a sense of calm, consoled by the compassion of Christ. The eye on the viewer's right, on the other hand, might remind one of Christ's stern warnings in the Gospels of the need to reform one's life. Together, the eyes can be mesmerizing, drawing one into a prayerful, meditative frame of mind. Jesus' hands, too, have something to speak to our souls in prayer. His right hand is raised in blessing. Why the unusual hand formation? Notice the configuration: the three fingers are symbolic of the Trinity, of which He is the Second Person, while the two are meant to remind us of Christ's dual nature: God and Man. His left hand is ready to open for us the Book of the Gospels, expanded like some sort of accordion. That indicates that they are full of wisdom for anyone willing to receive them from their Author," writes John Burger.
El Greco's "Christ Carrying the Cross"
Similarly, two of our writers told us that they meditate over El Greco's depiction of Jesus.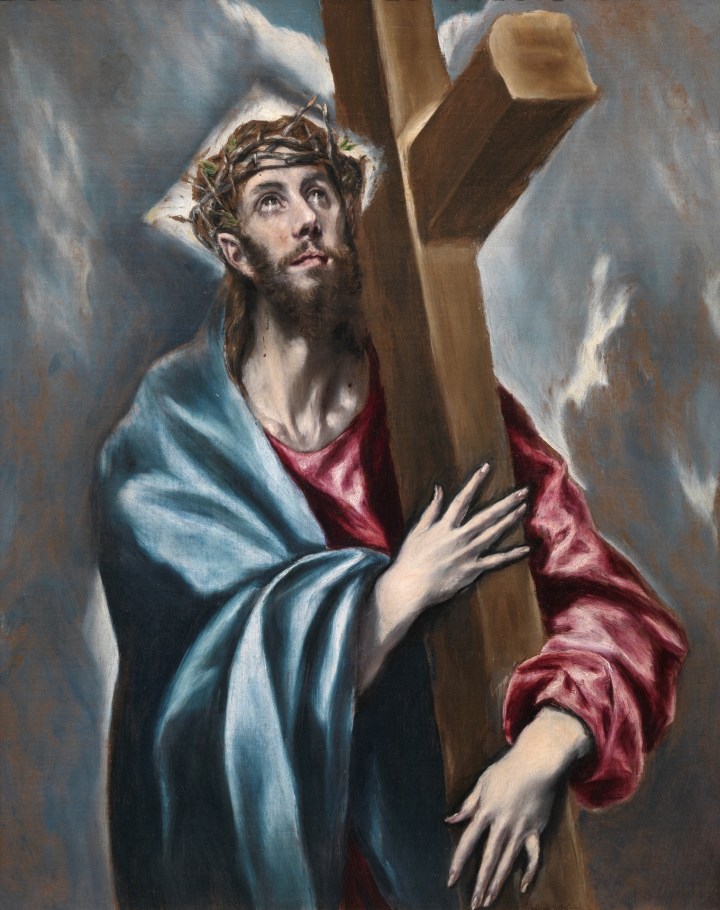 Dominio público
"The way his hands hold on to the cross suggest love can turn the heaviest of burdens into an easy, light one," writes Daniel Esparza.
"It's at the Met, and I think the first time I ever saw it was in real life. Jesus has tears in his eyes, and I stood before him for a long time, and the image put me into prayer," writes Kathleen Hattrup.
Head of Christ by the School of Rembrandt
This painting of Christ was listed in an inventory as "a head of Christ, done from life." The Philadelphia Museum of Art speculates that Rembrandt (or his assistants) might have used a neighbor in the Jewish Quarter of Amsterdam as his model.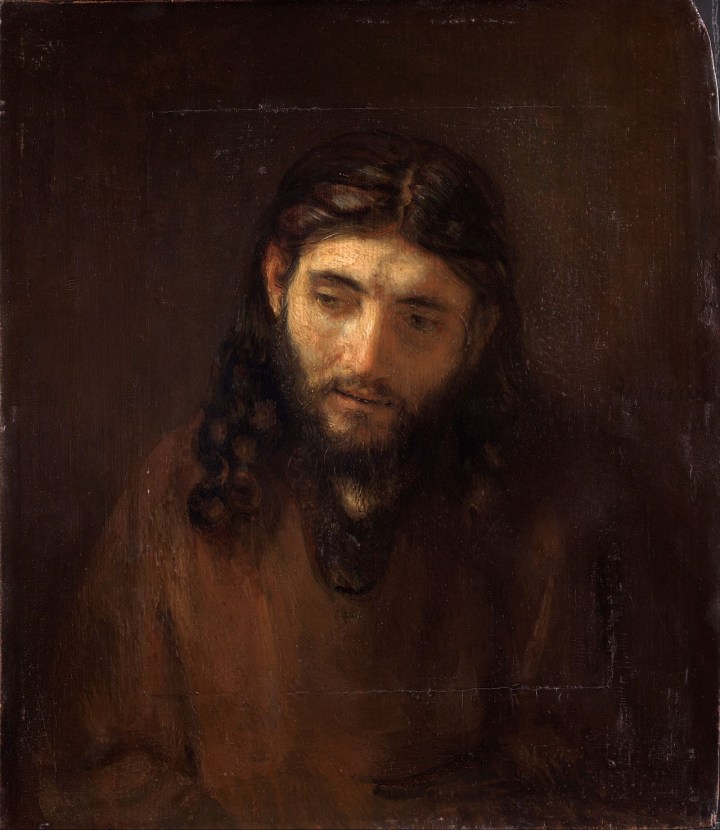 "This is the Jesus I talk to when I pray or sit with in Adoration. Until recently it was thought to be one of Rembrandt's portraits of Christ, but recently it was re-attributed to 'school of Rembrandt.' I like it better than those Rembrandt painted. To me it is deeply human and attractive without being at all saccharine," writes Joanne McPortland.
Rublev's Savior
The icon "Christ the Savior," was written by Andrei Rublev in 1408. In an effort to save it from destruction it was hidden under a barn floor, and was only discovered in 1918.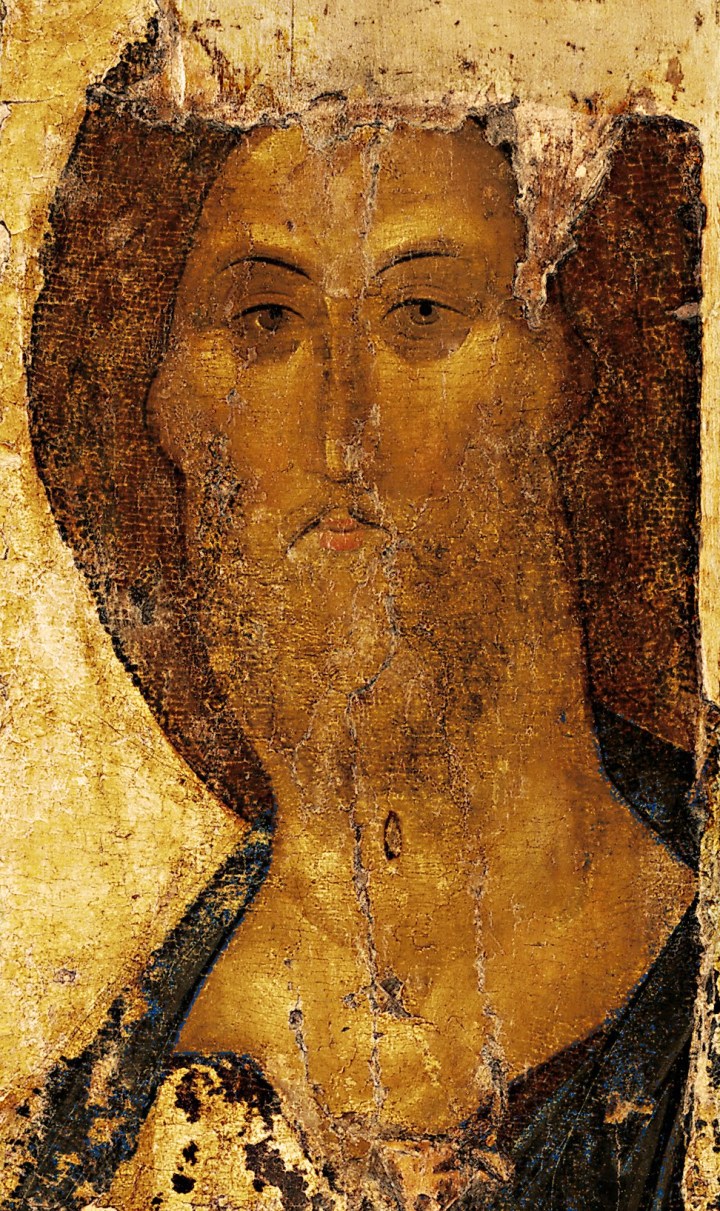 "This image does not strike me as attractive, however, it is included in Nouwen's Praying With Icons and the book invites the reader to learn to pray with it. I remember at first, it was hard for me to 'look into the eyes' of the icon. But one night in particular, with this icon, I had perhaps the most real sense I've ever had of prayer being truly a conversation with Another, with a Person," writes Kathleen Hattrup of her second favorite painting of Jesus.
Dalí's "Christ of Saint John the Cross"
The surrealist artist Salvador Dalí completed this painting in 1951, and reportedly said he depicted Christ in this unusual angle and without nails or blood, because of a dream he had.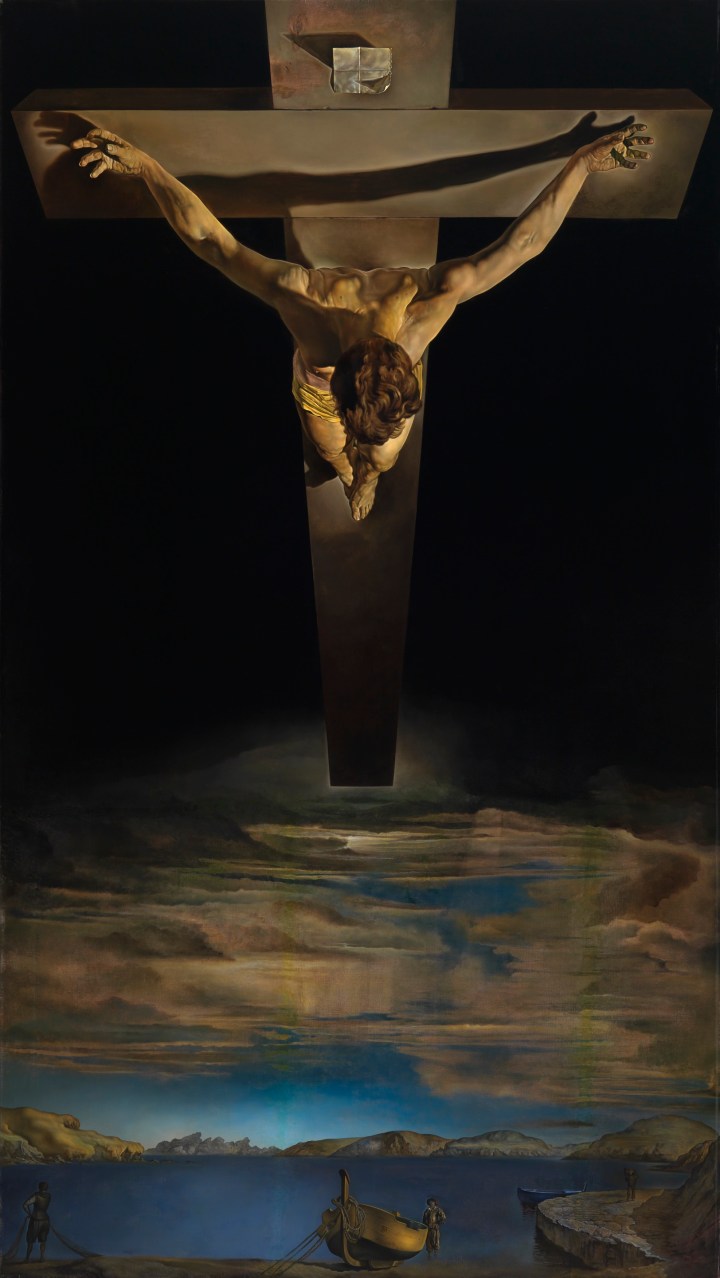 "Usually I find three-dimensional images of Jesus on the cross to be the most conducive to prayer. There is one painting, however, that I found so surprising, the thought of it still moves me. Salvador Dali's 'Christ of Saint John of the Cross' is a hackneyed image until you are in its presence. I have only seen it once as it is kept in a gallery in Glasgow. The size of the canvas is majestic, but more important is the feeling of calm where one expects torment. Time and every human dimension has been removed. It takes me to another realm. For all his failings, Dali was able to create something celestial out of Christ's suffering," writes Lucien de Guise.
San Damiano Crucifix
St. Francis of Assisi was praying before the San Damiano Crucifix when he received a commission from the Lord.
Courtesy of Bret Thoman
"When I look at this cross, I see the image that St. Francis saw when he heard the words, 'Go and Rebuild my House, which, as you can see, has fallen totally into ruin.' He promptly set out to literally rebuild the wayside church of San Damiano. Like Christ in this image, who is wounded, but resurrected, St. Francis brought life back into the little church, then the universal Church," writes Bret Thoman.
Vasnetsov's 1906 'Savior in the Crown of Thorns' 
Viktor Vasnetsov's painting is in the style of the "Crown of Thorns" icons found in Orthodox Christian art.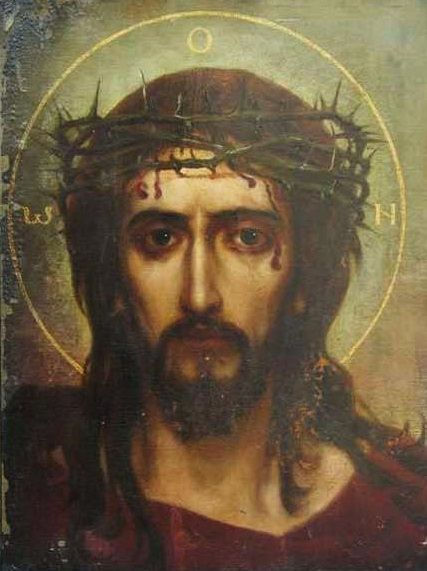 Courtesy of Sarah Robsdottir
"Jesus' eyes in Viktor Vasnetsov's 1906 painting 'Savior in the Crown of Thorns' speak to me in a powerful way. I have a small print of this piece on my mantel, and in a glance I'm always met with the reality that Jesus has borne my deepest sorrow. I've stared into Jesus' eyes in this painting many times and felt the comfort of being with someone who not only understands my grief but shares it. He bears my pain with me and for me. In these moments, my cross becomes lighter in the knowledge that I never have to carry it alone," writes Sarah Robsdottir.
Sacred Heart of Jesus
One of the most popular images of Jesus is the Sacred Heart Jesus, which dates back to the 11th century, when  St. Margaret Mary Alacoque had multiple visions of the Sacred Heart between 1673 and 1675.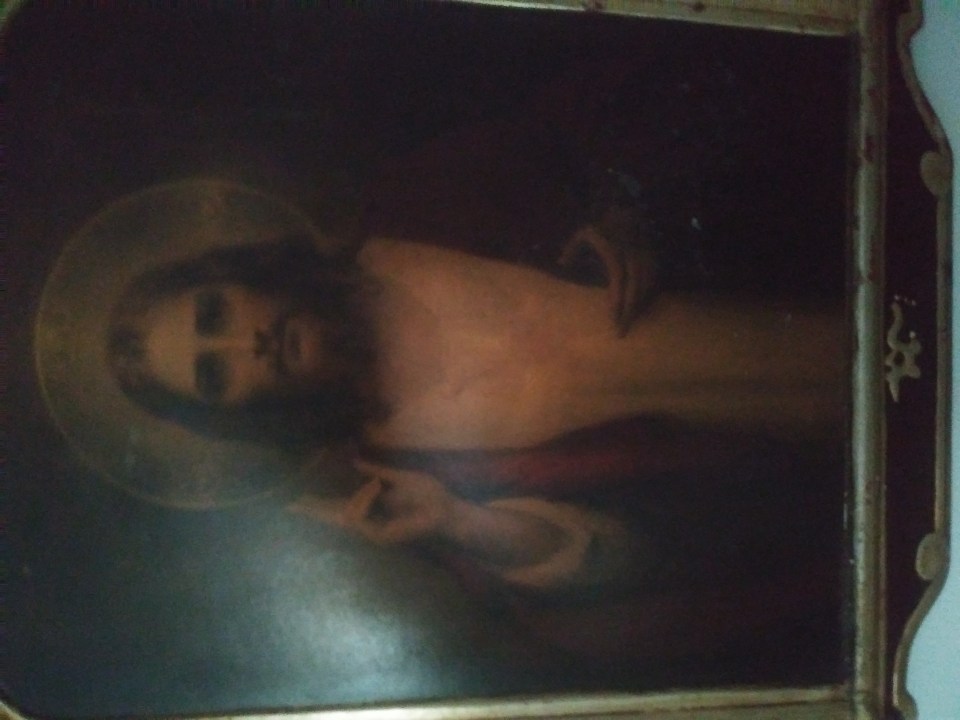 Courtesy of Larry Peterson
"This picture has hung by my front door for over 50 years. First person I say 'hi' to every morning," writes Larry Peterson.