Francis will visit Pope Celestine V who resigned in 1294. Benedict also visited him ... but is there a reason for the visit that everyone's missing?
On Sunday, August 28, 2022, the day after the Consistory in which he will create 21 new cardinals, including 16 electors, Pope Francis will travel to L'Aquila, a city hit by an earthquake in 2009. This will be Pope Francis' first pastoral visit to Italy in 2022, following the cancellation, for health reasons, of his planned visit to Florence on February 27.
The city of L'Aquila was visited by his predecessor, Benedict XVI, on April 28, 2009, as a sign of compassion for those affected by the earthquake of April 6, which killed nearly 300 people and left 65,000 homeless.
The German Pope also paid tribute to the city's Pope Celestine V during the visit. Celestine was a monk who was elected to the See of Peter at age 85 and resigned a few months later. He served as pope from July 5 to December 13, 1294.
Benedict placed his woolen pallium on top of Pope Celestine's casket. This gesture by the German Pontiff was interpreted, a posteriori, as a sign of his later resignation (which would take place 4 years after that visit), given that Celestine is the only pope to have resigned without a situation of schism or scandal.
But the jubilee …
However, there is another key factor of Celestine's legacy.
Celestine, by proposing the organization of a time dedicated to the forgiveness of sins, paved the way for the organization of the first Jubilee in the year 1300 in Rome by Pope Boniface VIII.
This tradition has continued ever since, with the next Holy Year scheduled for 2025.
Learn more about Celestine and jubilees below:
Pope Francis has already determined the theme of the Holy Year of 2025 and gotten the preparations underway. The theme — Pilgrims of hope — represents key themes of Pope Francis' pontificate.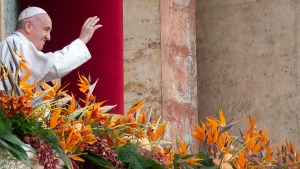 Breeze – or hurricane – of conclave
Vatican watchers, already carefully considering the Pope's health, and his age of 85, were quick to speculate if Francis' trip to visit Celestine might have the same symbolic value it (supposedly) had for Benedict.
Last summer, just a month after his difficult colon surgery, the Pope discounted rumors of retirement.
"I'm alive," said Pope Francis responding to journalist Carlos Herrera's question about his recovery since his operation in early July. Regarding press speculations on the possibility of resignation, the Bishop of Rome replied: "When the pope is sick, there is always a breeze or a hurricane about a conclave."
However, since then, Francis' knee has started to cause him severe pain, necessitating that he use a wheelchair for most engagements.
The Pope told Italian bishops in May that he wasn't interested in surgery to correct the knee condition. The Pope said that the general anesthesia for his colon surgery in 2021 had brought disagreeable side-effects, and therefore he doesn't want an operation for his knee. 
A German newspaper reported that on that occasion, he went so far as to say he'd rather resign than have another surgery.
A short pontificate?
In an interview with Mexico's Televisa in 2015 (just two years into his pontificate), Pope Francis suggested that he had a "vague feeling" that his pontificate would be short — "four or five years. Or I don't know, two or three — well, two have already passed. It's a sensation that is a little vague. Maybe not."
In March of this year, Pope Francis marked nine years as Successor of Peter.
In any case, in that same interview, he insisted that Benedict's resignation had set a tone for the Church, establishing a precedent similar to that of bishops of dioceses other than Rome, where a bishop emeritus is common. "Some 70 years ago, we didn't have bishops emeritus and now we have 1,400," he said.
"I think what Pope Benedict did was open a door," Francis said. "I think that what Benedict did with a lot of courage was open the door to popes emeritus."
Benedict shouldn't be considered an exception, Francis went on to say. Even if he was the first to resign in many centuries, he won't be the only one.
Francis' morning trip
The program of Francis' trip to L'Aquila will be condensed into one morning: The Pope's helicopter will take off at 8:00 am from the Vatican heliport, and will land at 8:25 am at the Gran Sasso stadium in L'Aquila. A car will then take him to Piazza Duomo, in front of the cathedral, where he will be welcomed by civil and religious authorities, including Cardinal Giuseppe Petrocchi, the city's archbishop. He will then make a brief private visit to the cathedral still damaged by the earthquake of 2009, before greeting relatives of victims and the faithful gathered on the square.
Francis will then travel by car to the Basilica of Santa Maria in Collemaggio, and will celebrate Mass outdoors in the square, from where he will then say the Angelus prayer before proceeding to the rite of opening the Holy Door. His visit is part of the "Celestine Pardon," a jubilee celebration held every year in L'Aquila at the end of August, since a bull promulgated by Pope Celestine V in 1294, Inter Sanctorum Solemnia, also called the "Bull of Pardon."
Pope Francis' celebration should end around 12:30 pm, and he will take his helicopter around 12:45 pm from the Gran Sasso stadium, for a return to the Vatican around 13:15 pm.
This is the first trip of Pope Francis planned this year in Italy. He did not travel to Florence on February 27 for the meeting of bishops and mayors of the Mediterranean, because of his sore knee. On the other hand, his international travel schedule is very busy: after Malta on April 2 and 3, he is scheduled to visit the Democratic Republic of Congo and South Sudan from July 2 to 7, and Canada from July 24 to 30.