"If discouragement taps you on the shoulder and asks you to dance, don't say yes!"
Getting assigned "orchard" as my convent duty area seemed like a piece of cake. The trees and bushes were already planted, so I just needed to wait for them to grow, right? How hard could it be? Famous last words …
I had barely begun when I had visitors – several types of fungi that felt all too comfortable there. Then for the next three years I faced "black knot disease, those nasty clumps of dark rot that cozied up on top of the branches of prune plum trees. While a fungicide spray routine might alleviate some of the problem, burning or burying the infected branches is the best recommended solution. Often the tree is just toast.  
Then we hit a particularly dry summer, and the underground hose system failed to function properly. Apart from hauling buckets of water down the big hill from the Motherhouse, or a miraculous rainstorm, there seemed no reasonable source of moisture for the plants.  
And one by one the wooden fence poles began to rot away and collapse – some from deer, others from natural wear and tear. The berries were vulnerable to the birds.
I didn't think it could get any worse. Then I went away for a couple weeks and returned to find a copperhead had taken up residence in my mulch pile, right in front of the orchard's entrance. Really? A snake? This was all too reminiscent of Eden.
The Evil One thrives on our discouragement. Extremes are his signature.
Not so different
How often do we encounter similar setbacks in the spiritual life? Our prayer seems to be tepid when distractions keep derailing it or God seems silent. Our efforts to spread the faith seem to fall on deaf ears. Pastoral activities appear thwarted by lack of resources or attacks from the culture. The "daily grind" gets to us, spiritual things become flavorless and we seem to be going nowhere fast. A glance at the news headlines, brokenness in our families and communities, let-downs from people we loved and trusted — the list goes on.
The Evil One thrives on our discouragement. Extremes are his signature: This project will never get completed. There's no use trying. You're always messing things up. You will never overcome this sin. You'll never be good enough. 
The "should haves" and "if onlys" become guilt-trips that shame us and leave us looking at ourselves with disgust rather than running to Jesus. When we are discouraged, our heart's eyes are lowered to the failures, shortcomings, and gaps. This prevents us from seeing the good all around us; the progress and beauty that are real.  
Venerable Bruno Lanteri, founder of the Oblates of the Virgin Mary, had a thing or two to speak to this topic: "Holiness does not consist in never failing, but in rising immediately, recognizing our weakness and asking God's forgiveness, and in doing this with peace of heart, without letting ourselves be troubled." (#11)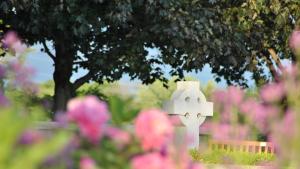 12 Tricks
How then do we overcome discouragement when it threatens our fruitfulness?
Frequent Confession and Communion The guilt of sin can really drag us down and needs to be brought to the Lord frequently. Sacramental grace strengthens us against discouragement. Finding a regular confessor can help in a formative dialogue about how we can overcome temptations. Receiving the Eucharist brings us into communion with the One who is Love.
Let go and begin again Pope John XXIII was known to have a great abandonment to God that we can imitate. He worked hard and then when night came, his response was this: "Well Lord, it's your Church, you take care of it; I'm going to sleep." Lanteri writes: "If I should fall a thousand times a day, a thousand times a day will I begin again, with new awareness of my weakness, promising God, with a peaceful heart, to amend my life."  (#8)
Make acts of faith and trust Frequently say statements like "Jesus, I trust in you" or "Lord I believe, help my unbelief." The very act of professing these truths increases our belief in them and expresses our choosing to love the Lord even when it doesn't feel good.
Stick to commitments to prayer We give in to the enemy when we cut our prayer time short because it is dry or obstacles seem to be getting in the way. St. Ignatius of Loyola would advise his retreatants to stay for the full meditation, regardless of how fruitful it seemed. We cannot measure our own spiritual progress in worldly standards. Our fidelity will bear fruit eternally.  
Read Scripture When the "bad news" saturates the media, turn to the "good news" of God's superabundant love. Find the stories of the battles won through God's power and amazing deeds done throughout the Bible. Surround yourself with the words of truth spoken by Jesus so His voice becomes louder in your head than the voice of the Enemy. Put "power verses" that stick out to you on your mirror, water bottle, or phone backdrop as a constant reminder.  
Say goodbye to self-reliance When tempted to do something on your own that will push you over the edge of stress, humbly ask for help from God and others. We are only the pencil in the hand of God. Remember, Jesus said: "Apart from me you can do nothing … but with me you can do all things."
Put a praise on it When you are tempted to a discouraging thought or word, turn to thanksgiving. It is nearly impossible to get caught in discouragement when you are thanking and praising God! Pull out those rosary beads and start fingering them with gratitude. Or create a "Praise Box" with Scripture verses that proclaim God's goodness to pull out when needed. There is tremendous power in offering God a "sacrifice of praise" – even and especially when we don't feel like it.  (Psalm 116)  The Evil One cannot stand it.
Learn from mistakes Often we hold ourselves to a different standard than God does. The flawlessness that is worldly perfection is a man-made goal, not a divine desire. Rather than letting your errors drag you down, turn them into resolutions. The next time you find yourself in a similar situation, make a plan for what you will say or do so as to grow beyond your weakness. St. Elizabeth of the Trinity, in a letter to her sister Guite, wrote: "He does not want any sadness in your soul about what was not done for Him. He is the Savior; His mission is to pardon. You must cross out the word discouragement from your dictionary of love."  
Accountability Find a friend or mentor you trust to check in regularly about a struggle you are having. Knowing that you will be reporting in to someone helps curb vices and grow virtue.  
Create a culture of encouragement Comparing ourselves to others always tends to lead to despair. We don't need to hand out artificial compliments but do need to get in the habit of authentically building people up, seeing their good and affirming gifts. Ask yourself, "How can I make this situation better? How can I elevate this conversation that is going downhill?" And pray for the grace to do so.  
Record and recall favors received Keep a journal of graces from God and insights in prayer that you can pull out and refer to when having a hard day.  
Smile! Studies show that the very act of smiling can release hormones that lower stress and increase overall well-being. Lanteri advised: "Keep far from you the spirit of sadness and melancholy. Show yourself joyful even when you do not feel so because of physical problems. At such times more than ever, guard against closing in on yourself, and turn your thoughts to Paradise, because it is yours." (#13)  Saints like Philip Neri, the "holy fool," teach us that we can't take ourselves too seriously. 
So what happened to the orchard? Well, when all seemed lost, I remembered something a wise sister once told me: "If discouragement taps you on the shoulder and asks you to dance, don't say yes!" It might seem that circumstances outside of our control have overpowered us, but in reality we are free to choose our attitude toward them.  
So, back to the garden. Just when I felt like throwing in the towel and walking away from it – the "easier" but cowardly response – a light shone in the darkness. Some faithful volunteers helped prop up the downed fence poles that had become an open invitation for creatures – a temporary fix until a kindly priest built an entirely new fence around the whole perimeter of the orchard. At eight feet high, no deer could jump it! 
The rain held off long enough for a cage for the blueberries to be installed to preserve these fruits from the birds. And I created a new makeshift entrance to the orchard in the back until the snake eventually got bored and slithered away. We couldn't save every fruit, but all was certainly not lost.   
While the sufferings of Christ continue to be lived in us, the Resurrection reality will always follow.  
After a hard day in the sun and dirt I sighed and declared emphatically to anyone who would listen: "Hope has been restored!" And thus the orchard was named. As Christians, we are not meant to be mere optimists. We are rather to be people buoyed up with Christian hope, trusting that while the sufferings of Christ continue to be lived in us, the Resurrection reality will always follow.  
The summer ended with a "victory garden party" to celebrate the triumphs we had had over every pest imaginable. The blueberries were delicious and surprisingly plentiful. A handful of pears and apples also made it through. The harvest had come. And the Lord wants your life to bear much fruit too.
*Quotes taken from Overcoming Spiritual Discouragement: The Wisdom and Spiritual Power of  Venerable Bruno Lanteri by: Fr. Timothy Gallagher, OMV