Let us not be like small children asking toys from their parents, but instead, seek Jesus to be with him.
What can God do in your life with one Bible verse a day?
Subscribe to Aleteia's new service and bring Scripture into your morning:
Just one verse each day.
Click to bring God's word to your inbox
It's good to learn to be with the Lord without ulterior motives, Pope Francis said this November 16, as he continued his catechesis series on discernment.
Speaking about what we learn from desolation, the Pope said that it is an invitation to "gratuitousness," that is, to give freely, without expecting things in return, even with the Lord.
Let us think of our childhood, for example, think: As children, it often happens that we look for our parents to obtain something from them, a toy, some money to buy an ice cream, permission… And so, we look for them not for themselves, but for personal gain. And yet, the greatest gift is them, our parents, and we understand this gradually as we grow up.
The Holy Father warned that we can pray with that same attitude: Our prayer can be "requests for favors addressed to the Lord, without any real interest in him."
"We go to ask, to ask, to ask the Lord," he said, noting that the Gospel presents us with many people with this attitude.
Jesus was often surrounded by many people who sought him out in order to obtain something: healing, material assistance, but not simply to be with him. He was pushed by the crowds, yet he was alone. Some saints, and even some artists, have contemplated this condition of Jesus.
Be with him
Thus, the Pope encouraged us to seek the Lord because of the joy of being with him, not to get something in return:
It may seem strange, unreal, to ask the Lord: "How are you?" Instead, it is a beautiful way to enter into a true, sincere relationship, with his humanity, with his suffering, even with his singular solitude. With him, with the Lord, who wanted to share his life with us to the full.

It does us a great deal of good to learn to be with him, to be with the Lord, to learn to be with the Lord without ulterior motives, exactly as it happens with people we care for: We wish to know them more and more, because it is good to be with them.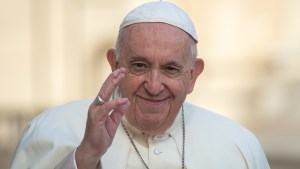 In this regard, the Pope warned against somehow misusing and misunderstanding the spiritual life.
Dear brothers and sisters, the spiritual life is not a technique at our disposal, it is not a program for inner "wellbeing" that it is up to us to plan. No. The spiritual life is the relationship with the Living One, with God, the Living One who cannot be reduced to our categories.
The Pope said that with a life of prayer, we find that "the outcome is unpredictable."
Experiences and passages from the Bible that have often enthralled us, today, strangely, do not move us. And, equally unexpectedly, experiences, encounters and readings that we have never paid much attention to or preferred to avoid – such as the experience of the cross – bring immense peace.

Do not fear desolation; face it with perseverance, do not evade it. And in desolation, try to find the heart of Christ, to find the Lord. And the answer will come, always.