Three popes, three styles, three personalities. Explore their work environments through these photos and testimonies.
What if we could enter the offices of the three most recent popes while they were writing their encyclicals, reading letters from all over the world, reflecting on the decisions to be made, or meditating on the mission entrusted to them? What would we see, looking at the objects, the souvenirs, and the images that witness their work?
Francis, St. Joseph and "The Tears of Peter"
Pope Francis uses his official office as little as possible. He clearly prefers to work in his small apartment in the St. Martha residence, where he decided to continue living after his election on March 19, 2013.
But whether it's his official office in the Apostolic Palace where he receives world leaders, or the small office in St. Martha's, the Argentine pope values the nearby presence of his favorite saint, Joseph of Nazareth.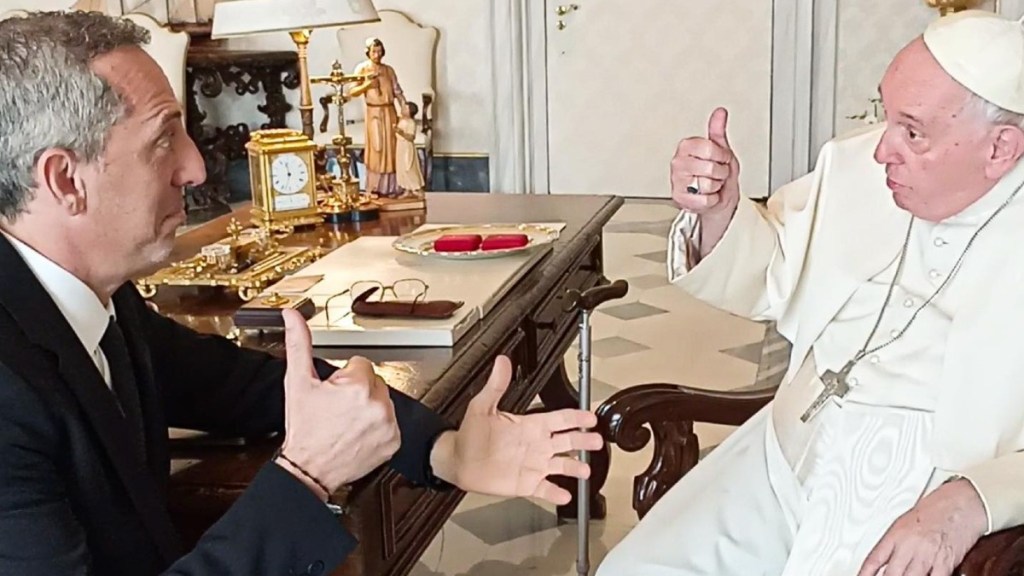 "I have great love for St. Joseph, because he is a man of silence and strength," he says.
On his official desk is a statue of St. Joseph standing next to Jesus as a child, but he also has another of St. Joseph sleeping. "Even when he is asleep, he is taking care of the Church! Yes! We know that he can do that. So when I have a problem, a difficulty, I write a little note and I put it underneath St. Joseph, so that he can dream about it! In other words I tell him: pray for this problem!" he said while meeting families during his trip to the Philippines in 2015.
His devotion to the adoptive father of Jesus is significant: the pontiff has given him a privileged place from the beginning of his pontificate, inaugurated on the same day as his feast day. Moreover, on his papal coat of arms is the spikenard flower, the same aromatic plant – a symbol of purity and love – that St. Joseph may have held in his hand when he proposed to Mary.
But there's something else that accompanies Francis during his work: a copy of a painting. It's "The Tears of Peter," where Peter weeps after betraying Jesus. "It makes me remember that grace. There's a beautiful prayer that says, 'You who made water flow from the stone when Moses struck it, make tears flow from my heart of stone.' This is a beautiful liturgical prayer, which can be said during a Mass to ask for the gift of tears. If the Lord has given us the ability to weep, it's so that we may use it. There's nothing worse than grief that is not expressed through tears. And there is nothing harder than sensing the pain of a loved one and seeing them clench their teeth and heart to keep from showing their distress. Crying is not a sign that one lacks hope. On the contrary," he said, in all simplicity and frankness, in a book-interview From the poor to the Pope, from the Pope to the world ( "Des pauvres au Pape, du Pape au monde," only available in French) published in March 2022.
Benedict XVI, memories of Bavaria and pencils
Looking at the photos of Benedict XVI, who died on December 31, 2022, it's striking to see the office in his Mater Ecclesiae residence where he worked until the last months of his life. Although the Pope Emeritus had lost much of his physical strength at the end of his life, his mind remained clear until the end.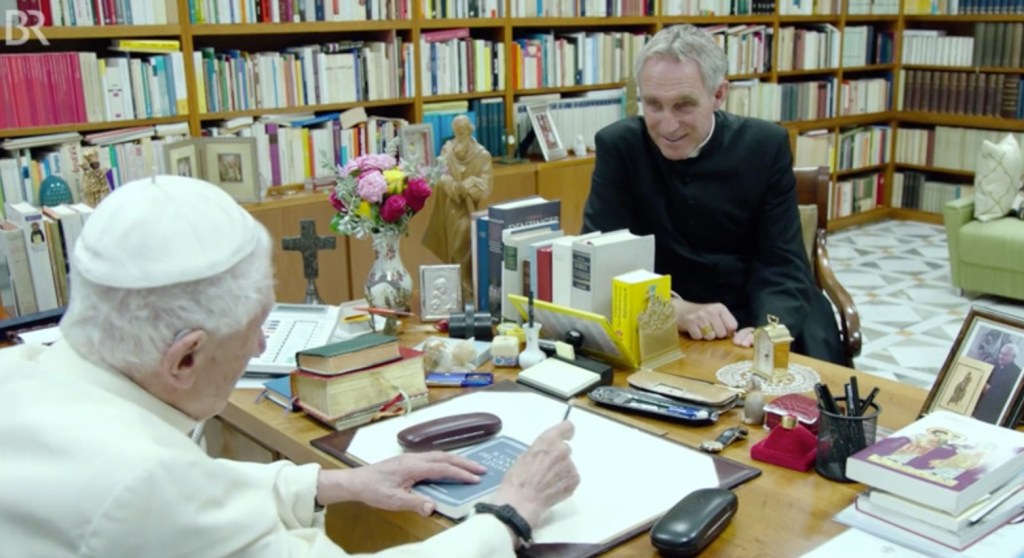 Capture d'écran Bayerischer Rundfunk
He insisted on keeping a very strict schedule, where intellectual work time had a very important place.
After 7:30 a.m. Mass in the chapel of the monastery that had been his home since his resignation on Feb. 11, 2013, Benedict XVI spent a lot of time in his office filled with books and memorabilia. In a documentary made by Bavarian public television Bayerischer Rundfunk in 2019, the German pope looks at his desk, which has accompanied him for 65 years, saying, "It's had a long journey." And he reveals, amused, that it's equipped with a secure telephone line, dating from the time when Munich was the target of terrorist attacks.
On his desk are a crucifix, a picture of the Virgin Mary with the Child Jesus, a statue of St. Joseph, a small candle, and a bouquet of flowers, but also photos of his parents and siblings, including a beautiful portrait of his sister Mary.
Not far away are two paintings of his favorite saints: St. Benedict and St. Augustine, given to him in 1977 when he was Archbishop of Munich and Freising. And right next to his chair is a souvenir of his native Bavaria: a gingerbread decoration hung by the nuns, with these words written in icing: "Dahoam is Dahoam," which means "there is no place like home" in Bavarian dialect. "I'm still very united with Bavaria and every night I entrust it to the Lord," he said in the final words of the documentary.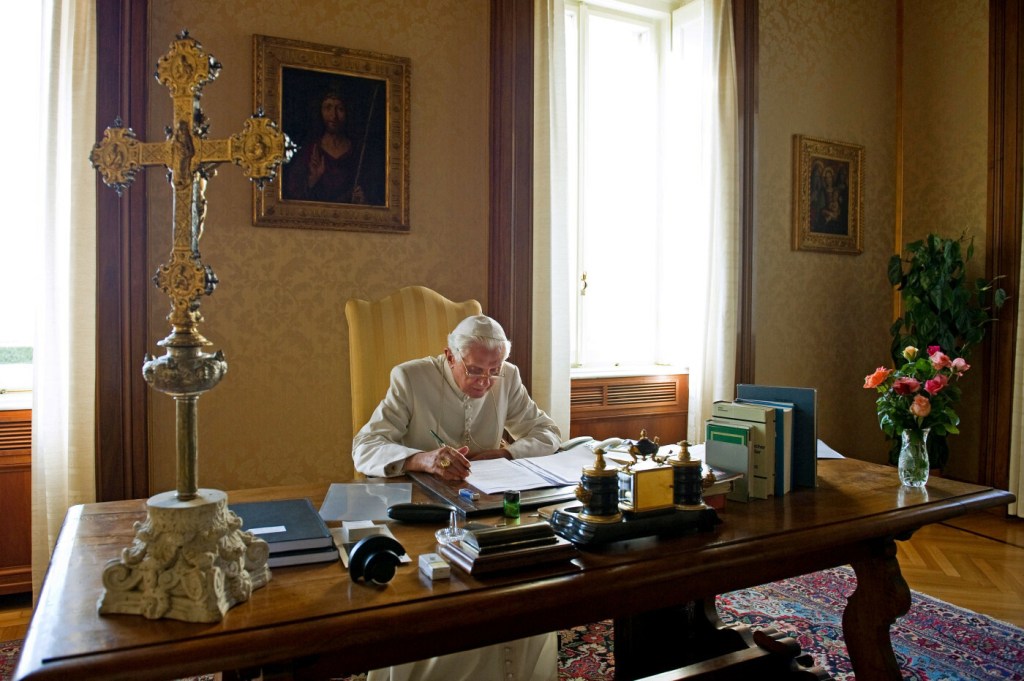 AGF s.r.l. / Rex Features/EAST NEWS
As a sitting pontiff, Benedict XVI enjoyed working in the office of the papal private apartments at Castel Gandolfo, the summer residence of popes near Rome. In fact, the German pope was the last to enjoy it: at the request of Francis, who never stayed there, the residence has been transformed into a museum open to the general public.
Like his predecessor, Benedict XVI liked to spend the summer there to pray in the splendid gardens and to work in peace. Looking at the photos, one can see on his desk a small worn leather container. It is indeed a pencil case, very similar to the one used by schoolchildren. Benedict XVI never left it behind.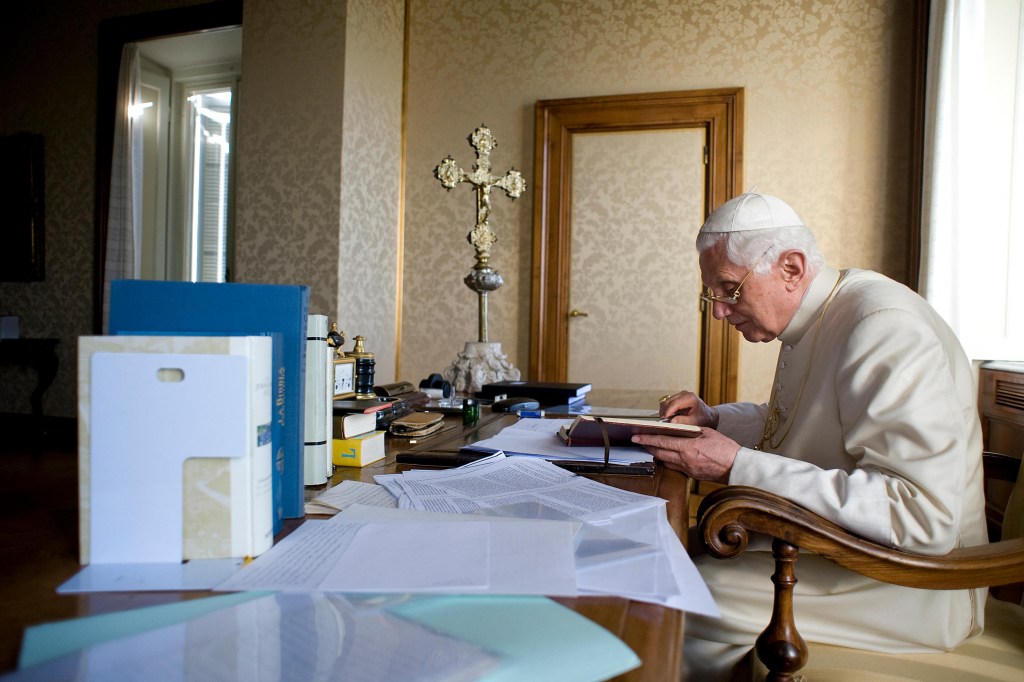 HO / OSSERVATORE ROMANO / AFP
Although he received a laptop computer after breaking his wrist in July 2009, he was not used to writing on it at all. Fr. Lombardi, the Vatican spokesman, said: "Especially in the context of creative work, the Pope prefers to use a pen." A few rare photos attest to the fact that he also used pencils.
"My thoughts develop mainly through handwriting, so for me it was really a test of patience not to be able to write for six weeks," he explained to journalists at the time of his bone fracture. Even in his last texts and readings, his pencils and pens faithfully accompanied him in his creative work.
John Paul II, Christ without hands, Padre Pio and lily of the valley
John Paul II's office was on the third floor of the Apostolic Palace. It was from the window of this room that the Polish pope, elected on October 16, 1978, recited the Angelus and shared his thoughts with the faithful gathered in St. Peter's Square on Sunday afternoons. There was none of the splendor of the palace interiors: just a library with many books, and a desk with lightly scratched sides. This is where John Paul II worked every day.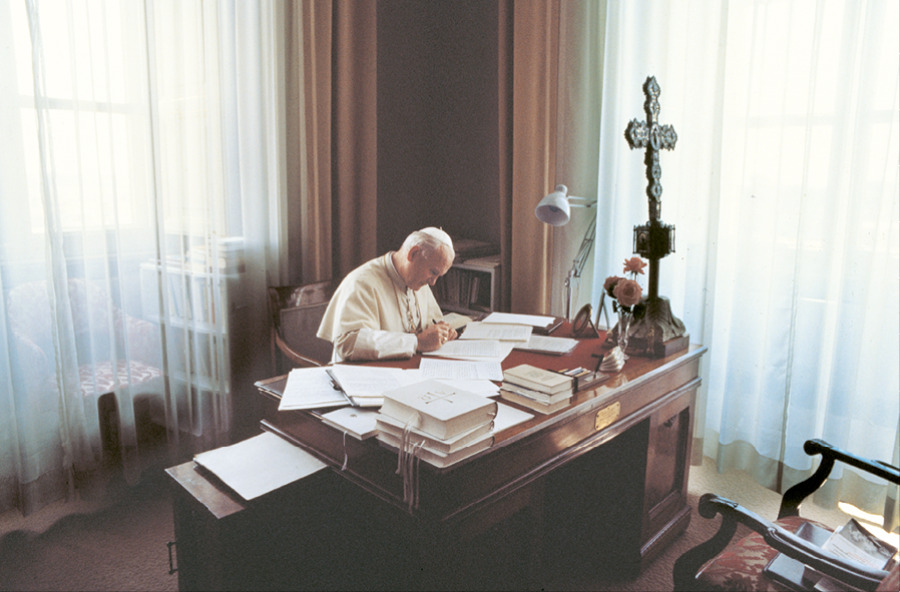 On a shelf against the wall were two rotary phones, the same kind as seen in movies from the 1960s and 1970s. On the table were two photos, one of Padre Pio and one of Polish Cardinal Adam Sapieha. Next to them was a statue of Christ and an ikon of Mary with the Child Jesus.
"When the Pope began his work each day, he saw a statue of Christ without hands in front of him. It was a gift from a demolished church in one of the villages in ex-Yugoslavia," writes Archbishop Mieczyslaw Mokrzycki, John Paul II's second private secretary, in his bookHe Liked Tuesdays Best: A Story about Everyday Life of the Blessed John Paul II. Right next to it was a copy of the famous Russian icon of Our Lady of Kazan. There was also an image of Our Lady of Jasna Góra, the iconic Polish icon, and those of two fellow countrymen saints: Maximilian Kolbe and Rafał Kalinowski.
"This place was filled with silence and peace. It smelled fresh. The Holy Father loved the fresh air. He liked to have an open window in his office, even when it was cold," recalls Archbishop Mokrzycki. He says that it felt a bit like spring in the pope's office because there were always flowers on the desk – usually small, modest bouquets. For example, every spring the sisters brought lilies of the valley from the Ursuline garden.
There was also a large statue of Our Lady of the Immaculate Conception, an old wooden statue that rested on a small stone base in the corner of the office. John Paul II often stopped there to kiss it.